"Of course, we feel very uncomfortable to have such unpredictable and aggressive partners as vis-a-vis. But in any case, that is the reality, in which we must exist. Certainly, we should not give up attempts to provide our European vis-a-vis with our position [on the incident]," Peskov told the Russian Mir TV channel.
London remains reluctant to cooperate with Moscow on the poisoning case of Sergei Skripal, ignoring Russia's desire to help the United Kingdom investigate the circumstances of the incident, Kremlin spokesman Dmitry Peskov said.
"Our desire to contribute to the clarification of the incident's circumstances, to interact for these purposes, is not reciprocated. Our intentions and attempts at different levels to explain something stumbled upon a wall of misunderstanding and a wall of reluctance to listen. Simply to say, the UK ambassador does not come to the Russian Foreign Ministry, when people are sitting there ready to answer any questions," Peskov stated.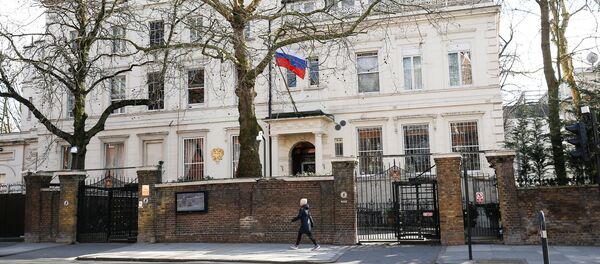 The presidential spokesman recalled that it was not known what information UK Prime Minister Theresa May used in her contacts with her European counterparts, how much information about the incident in Salisbury is available to UK authorities, and what really happened there.
"Accordingly, we simply cannot judge what caused such a reaction. The accusations are so serious that they cannot be put forward unfounded, neither can they be made in the subjunctive mood, they can be announced only in the affirmative and supported by specific evidence," Peskov emphasized.
READ MORE: Skripal Case: 'Brits Are Using It as a Way to Rebuild Bridges with EU' — Prof
Earlier, the Russian Foreign Ministry organized a briefing for foreign ambassadors accredited in Russia. During the briefing, the senior officials of the Russian Foreign Ministry, Defense Ministry and Industry and Trade Ministry dismissed unfounded allegations against Russia and stressed that all chemical weapons stockpiled in Russia had been completely destroyed, which had been then confirmed by the Organization for the Prohibition of Chemical Weapons (OPCW).
On Thursday, EU leaders said at a Brussels summit that they had agreed with London that Moscow was "highly likely" involved and ordered the bloc's ambassador to Russia to return for consultations. Several EU members have expressed readiness to follow the steps of the United Kingdom and expel Russian diplomats.
On March 4, Skripal and his daughter Yulia were found unconscious on a bench at a shopping center in Salisbury and are currently being treated for exposure to what UK experts believe to be the A234 nerve agent. UK Prime Minister Theresa May has accused Russia of orchestrating the attack and expelled 23 Russian diplomats as a punitive measure.
The Russian side has strongly rejected the accusations and offered assistance in the investigation. However, Moscow's request for samples of the chemical substance used to poison Skripal was denied. Moscow also expelled UK diplomats and ordered the British Council to stop its activities in Russia in response to the UK move.
Western Sanctions Unable to Impede Integration Processes Within EAEU
Anti-Russian sanctions imposed and planned by Western countries will not hinder integration processes within the Eurasian Economic Union (EAEU), Kremlin spokesman Dmitry Peskov said.
"Of course, 'sanctions exchanges' between Russia and other countries exert some negative impact on the integration process but they cannot have a decisive negative influence. Now we are recording a very positive dynamics of integration processes, primarily in the EAEU," Peskov told the Mir broadcaster.
The Kremlin spokesman pointed out that Russian President Vladimir Putin was paying special attention to the integration processes within the territory of the former Soviet Union.
READ MORE: Kremlin Denies Reports, Skripal Asked Putin For Permission to Return to Russia
"The integration processes are expanding and, you know, that is the key priority for President Putin in his foreign policy and he is a strong supporter of the need for further development of integration processes in the post-Soviet region," Peskov stated.
The EAEU, comprising Russia, Armenia, Belarus, Kazakhstan, and Kyrgyzstan, is an international organization that encourages regional economic integration through the free movement of goods, services, and people within the union.
Putin Gained Strongest Support in Competitive Russian Presidential Election
"Putin really did not have and has no competitors in terms of political and state leadership, but despite this, a sufficient element of competition and political competitiveness was present at the elections. This is quite a delicate work by the CEC [Central Election Commission]. The election was described as one of the most transparent and clean. Of course, this is very important," Peskov said.
Putin always stands for the purity of the elections, Peskov emphasized.
"The purity of the election itself is what president Putin demands, which he always requires, whether it is a single day of voting in September, or whether it is the parliamentary election or presidential election," the presidential spokesman said.
According to the Kremlin spokesman, the presidential election was held without any major violations.
"You know that there are so many people who want to speak about some kind of fraud, throw-in, carousel voting and so on, but when it comes to the fact that you just need to address a law enforcement agency with a specific fact, such voices fade out. So, it is impossible to speak in general terms, but it is necessary to appeal to specific cases that were confirmed by a court decision, only these can be called violations," Peskov said.
READ MORE: Putin Wins Russian Presidential Election With 76.69% of Vote — Draft Resolution
The Russian presidential election took place on Sunday. Putin secured a landslide victory winning 76.69 percent of the votes, with a total of 56,430,712 voters supporting his candidacy, according to the Central Election Commission (CEC) data.