"We have asked our crew to dim light at the Russian segment as part of Earth Hour," the company's press service said.
The company specified that the participation in the event would not affect the ISS work as all life support systems would keep operating.
Since the world is starting Earth Hour from 8:30 p.m. local time, the Russian ISS segment will join the event just at 20:30 GMT.
Российский сегмент #МКС присоединяется к акции #ЧасЗемли. Мы выключили свет в модуле Звезда в знак неравнодушия к будущему нашей планеты! 🌍 Включенными остались только компьютеры управления, без которых мы не можем обойтись…
//#EarthHour on the Russian segment of the #ISS! 🌍 pic.twitter.com/wMchfDrtZF

— Anton Shkaplerov (@Anton_Astrey) 24 марта 2018 г.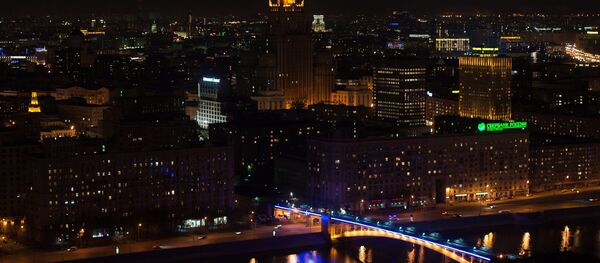 ​Earth Hour is an annual international event held by the World Wide Fund for Nature (WWF), during which people turn off lights and electric appliances for one hour to show that they care about the planet's future. During this event, the lights of the most popular buildings and landmarks in the world are turned off.
On Friday, the crew of the Soyuz MS-08 spacecraft with Russian cosmonaut Oleg Artemyev and NASA astronauts Drew Feustel and Ricky Arnold successfully boarded the ISS, two days after their capsule was launched from the Baikonur space center in Kazakhstan. They join three other people at the outpost – Russia's Anton Shkaplerov, NASA's Scott Tingle and Japan's Norishige Kanai.