"Let's take Syria, for example. Before Russia stepped in the war on the side of the Syrian government, the country had been waging an undeclared war for its right for existence," Gerasimov said.
"We can't say when exactly these internal disturbances overgrew into a war," the official added.
Earlier this month, Russian Deputy Defense Minister Alexander Fomin said that US special operations forces and other military units had contributed to the creation of a safe haven for terrorists in western Syria.
The US, which entered Syria without getting the go-ahead from the country's authorities, has repeatedly been accused of supporting terrorists there. Russia, for its part, is in Syria at the behest of President Bashar Assad and has added considerably to destroying the terrorist group Daesh* (ISIS) in the country.
On Situation in Eastern Ghouta
Almost 5,000 militants and their family members have been evacuated from the Syrian city of Harasta located in Damascus suburbs area of Eastern Ghouta to the northwestern province of Idlib, the Russian Defense Ministry said Saturday.
"Overall 4,979 militants and their family members have been evacuated from the settlement of Harasta to the Idlib province," the statement read.
According to the Defense ministry, a new humanitarian corridor has been opened in Eastern Ghouta on Saturday near the settlement of Irbin to let the militants and their families evacuated from the city.
Also on Saturday, Maj. Gen. Yuri Yevtushenko, the head of the Russian Center for Syrian reconciliation said 1,717 people had left Eastern Ghouta through the Muhayam Al-Wafedin checkpoint and the total number of people, who left the besieged suburb, had exceeded 106,000.
The situation in Eastern Ghouta has been tense over the past months, resulting in ongoing shelling by local militants of Damascus and fire from the Syrian pro-government forces. Damascus says it opens fire in response to shelling from Eastern Ghouta, but Western countries are accusing the Syrian government and Russia of being responsible for the escalation of tensions in the area.
READ MORE: 'As Soon As Daesh Seized Power, Torture Began' — Eastern Ghouta Resident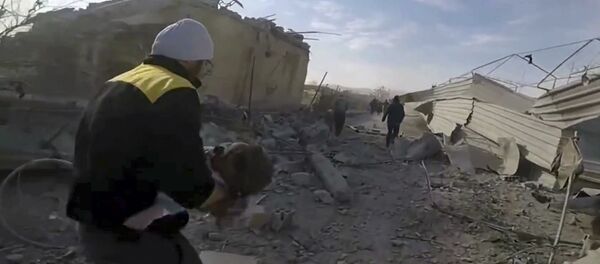 Following the escalation, the UN Security Council unanimously adopted Resolution 2401 that urges all parties to the conflict in Syria to immediately stop hostilities and adhere to a humanitarian ceasefire for at least 30 days across the whole of Syria in order to ensure the safe and unhindered delivery of humanitarian aid, as well as the medical evacuation of injured people. 
Soon after the adoption of the resolution, Russia announced a daily five-hour humanitarian break in the fighting to prevent more casualties among the population and allow civilians leave Eastern Ghouta.
*Also known as ISIS/ISIL/IS, a terrorist group banned in Russia