"Greece today is a beacon of values, a guarantor of stability and security in our region. And for this reason, it will not allow anyone to play games that threaten the stability and a normal situation. And I want to repeat what the whole of Europe has declared officially and unanimously here, in the historic corner of our homeland, Turkey must stop illegal activities in the Aegean, it must respect the sovereign rights of Greece and Cyprus, observe the rules resulting from international law," Prime Minister of Greece Alexis Tsipras said as the country celebrates its Independence Day.
Tsipras emphasized that the revolution of March 25, 1821, had signaled a victory in the struggle for freedom and independence of the homeland, the struggle for liberation from the jackboot of the conqueror. According to him, a strong defense is required to ensure the absolute respect of sovereign rights and territorial integrity.
"Greece is a country that has powerful deterrent forces not to threaten, but to ensure peace and stability in the region in order to serve the principle of mutual neighbourly co-operation," he said.
Speaking on the issue of the two Greek soldiers detained in Turkey after accidentally crossing the border earlier this month, the prime minister of Greece said the government was doing its utmost to make sure they return home within the shortest possible time.
Greek Minister of National Defense Panos Kammenos promised to "crush" those who will challenge the sovereignty of Greece and bear the plans of the "Great Ottoman Empire", citing the victorious 1821-1832 Greek uprising against Turks, which re-established Greece as a sovereign country.
READ MORE: At Least 16 Died as Boat With Migrants Capsizes Off Greek Island — Reports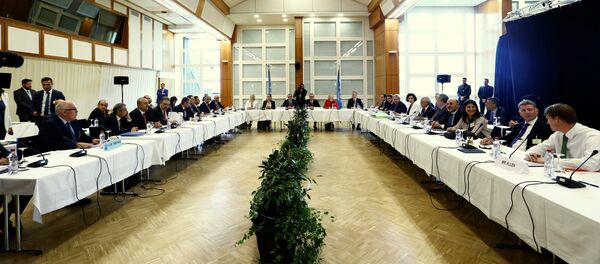 Of late relations between Greece and Turkey sharply deteriorated after a Turkish patrol ship rammed the ship of the Greek coast guard.
The dispute dates from 1996, when the countries argued over the territorial affiliation of the two rocky islets of Imia of the Dodecanese archipelago in the Aegean Sea which led to a crisis in relations between Greece and Turkey. The conflict was terminated after the intervention of the international community, NATO and the United States.