The United Kingdom has been accused of using opaque open licenses to endorse arms sales to Middle Eastern states, MEE revealed. The figures compiled by Campaign Against Arms Trade (CAAT) for MEE demonstrated that the government had envisaged a 22 percent hike in the use of those licenses to increase arms deliveries, including assault rifles to Turkey in 2016 and acoustic riot control devices to Egypt in 2015.
READ MORE: Why are Asia and the Middle East Importing More Arms Than Ever Before?
Beyond Turkey and Egypt, arms exports under open licensing systems were approved for Saudi Arabia, Oman, Kuwait, Qatar, the United Arab Emirates, Israel, Bahrain, Algeria, Iraq and Jordan.
Turkey
The figures show that 135 licenses, including those for drones and tank components, machine guns, sniper rifles, aircraft components and gun mounting,  were granted to Ankara; the export of which is thought to be linked to a $140 million fighter jet development deal signed by UK Prime Minister Theresa May and Turkish President Recep Tayyip Erdogan in January 2017.
READ MORE: Turkey Establishes Full Control Over Syria's Afrin District — General Staff
Moreover, there is a growing concern that Turkey is using weapons and components manufactured in Britain in its offensive on the Kurdish People's Protection Units (YPG) in Syria's Afrin, which has resulted in displacement of tens of thousands of people and nearly 300 civilian deaths. Ankara considers the YPG to be affiliated with the Kurdistan's Workers' Party (PKK), regarded by Turkey as a terrorist group.
Gulf States
The program covers open licenses for exports of military-grade electronic equipment and components for military aircraft to the United Arab Emirates (UAE); the figures suggest 136 licenses have been granted to the UAE since 2013.
READ MORE: Yemen's Houthi Rebels Claim They Hit Saudi Arabian F-15 Jet — Reports (VIDEO)

Saudi Arabia appeared to be the larger recipient of arms under secretive open licenses; according to MEE, the use of approvals for weaponry export, including key parts for jets conducting strikes in Yemen, had risen by 75 percent last month.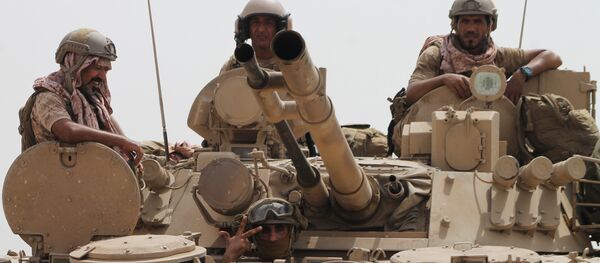 The Gulf States are involved in the Saudi-led aerial bombardment of Houthi rebels in Yemen, which has cost thousands of civilian lives.
Qatar has witnessed a 150 percent increase in open licenses endorsed since 2013, with assault rifles, body armor, small arms ammunition and military radar equipment being approved.
Meanwhile, in such states as Algeria and Israel the number has shrunk but a higher number of items were individually approved, for instance, components for launching rockets and drone parts to Tel Aviv.
'UK Arms Do Terrible Damage'
"The increase in open licenses should concern everybody. It tells us that the government wants to make a shady industry even more closed and secretive. UK arms are doing terrible damage in Yemen, so it's more important than ever that parliament and civil society are given as much information as possible so that the government can be held to account," Andrew Smith, spokesperson for CAAT, told MEE.
According to the news portal, CAAT is concerned that the number of items approved under the program has drastically increased since the decision to expand UK arms exports after the Brexit referendum. Moreover, it is difficult to track open licenses, and the rise in their use allows for multiple installments of weaponry to be sent to the same destination without making it public.
"In the past the government has said transparency on open licenses would be an administrative burden on industry. […] The government should make public the value of arms transfer under open licenses. They have no excuse left," Lloyd Russell-Moyle, a Labor MP, sitting on the arms export controls select committee (CAEC), told MEE.
Meanwhile, the government states that the UK takes the matter "very seriously" and operates "one of the most robust export control regimes in the world.