Former French left-wing parliamentary candidate Stephane Poussier has been arrested after he posted a tweet celebrating the death of Lt-Col Arnaud Beltrame, who was killed by a jihadist terrorist after trading places with one of his hostages.
"Whenever a policeman is shot… I think of my friend Remi Fraisse," Poussier wrote on his Twitter account, referring to an environmental activist killed by stun grenade when he was taking part in a protest police was breaking up a protest over the construction of a dam.
He added that the death in the town of Trebes meant one less voter for President Emmanuel Macron.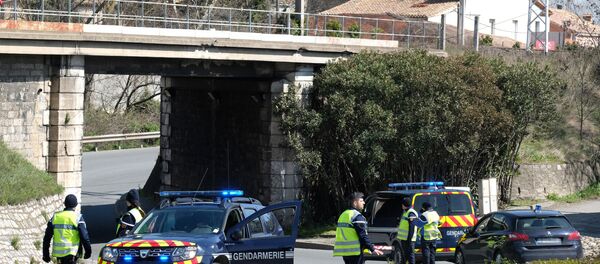 Poussier's tweet caused an angry uproar and his Twitter account was deleted.
On Sunday, he was detained at his home in northwestern France.
"Stephane Poussier has been in custody since 11.30 this morning for justifying acts of terrorism after comments published yesterday on his Twitter account," local prosecutor David Pamart confirmed to AFP later in the day.
If he is found guilty, Poussier could face up to seven years in prison and a fine of €100,000 ($124,000).
READ MORE: Three Dead After 'Islamist Terror' Attack in France, Suspect Killed (VIDEO)
Stephane Poussier's comments were condemned by the La France Insoumise (France Unbowed) party, on whose ticket he ran for parliament last year.
Colonel Arnaud Beltrame, 44, who was fatally wounded after he volunteered to replace a female hostage when a jihadist stormed a supermarket in Trebes on Friday, has been hailed as a national hero.