According to Russian media reports, the fire was said to have spread across 300 square meters, which appear on photos to be the building's entire rooftop.
​Some 155 firefighters, 14 vehicles and 44 various pieces of equipment were dispatched to the scene; the firefighters managed to extinguish the flame a couple hours ago.
​"The fire has been extinguished, the spread of fire has been prevented," says Chechnya Emercom head Ruslan Yakhyaev. "The fire area was 300 square meters. The apartments sustained no damage."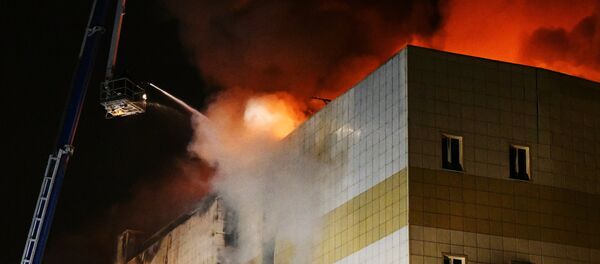 Yakhyaev said that the flats will be thoroughly inspected; after that, the people would be either allowed to return to their homes or will be temporarily put in nearby hotels. According to preliminary reports, no one was injured in the fire.
People from a nearby shopping mall were also evacuated over fears of fire spreading on the adjacent building.
The incident happens just one day after another major fire broke out in the Siberian city of Kemerovo that took lives of at least 64 people, including many children.