According to The Jerusalem Post, former US President George W. Bush and Israeli Prime Minister Ehud Olmert had had a meeting in the private residence at the White House, where they celebrated the destruction of the so-called Syrian reactor over cigars.
READ MORE: 'Israel is Lying, What They Bombed in 2007 Wasn't a Nuclear Facility' — Analyst
Bush allegedly told Olmert that he didn't "think you would have the courage to do it," while Olmert responded that he had told him he "would do it." Then, the US President boasted of being taller than his Israeli counterpart that was later sealed by a graphic picture: the two leaders standing back-to-back in an attempt to measure their height. According to the author of the Jerusalem Post article, the picture was signed by President Bush with the words, "I've got your back."
© AP Photo / Evan Vucci
President Bush, right, shakes hands with Israeli Prime Minister Ehud Olmert, Wednesday, June 4, 2008, in the Oval Office of the White House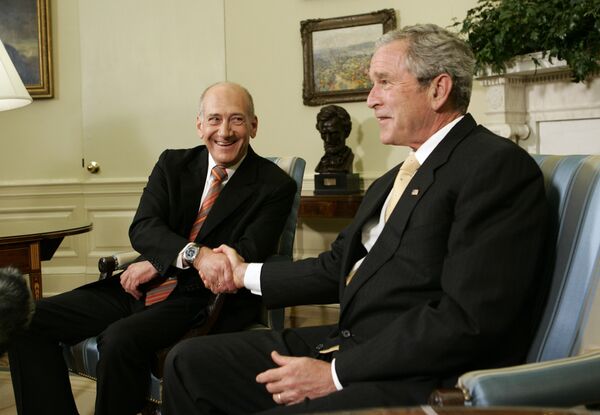 President Bush, right, shakes hands with Israeli Prime Minister Ehud Olmert, Wednesday, June 4, 2008, in the Oval Office of the White House
Syria Under Suspicion
While the military has stated that the damage "was irreversible," some media reports, including from the Jerusalem Post, which referred to the British-based Arab language Al-Quds al-Arabi news site, citing a Syrian opposition source, suggest that under Bashar al-Assad Syria has established a uranium enrichment facility in the area of al-Qusayr in Homs province, near the Lebanese border. According to the report, the Syrians transferred uranium rods to the reactor shortly after the 2007 bombardment of the facility in Deir ez-Zor.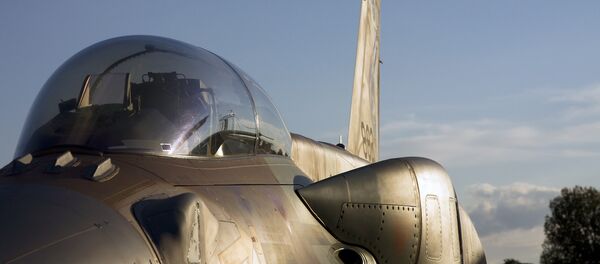 Germany's Der Spiegel was the first to report about suspicions Syria proceeding to develop its nuclear program, citing intelligence sources and analysts, saying that around 8,000 fuel rods had been stored at the site, which might as well be serving as new enrichment facility.
A decade ago Israel destroyed an alleged Syrian nuclear reactor in Deir ez-Zor province, having sent eight fighter jets, F-16s and F-15s, on September 6, 2007. Israeli military reported then that as a result of the four-hour operation, the facility "had been totally disabled," and the damage "was irreversible."
READ MORE: Israel Admits Bombing "Nuclear Facility" in Syria's Deir ez-Zor Province in 2007
The military also revealed a "top secret" intelligence report, dated March 30, 2007: "Syria has set up, within its territory, a nuclear reactor for the production of plutonium, through North Korea, which according to an (initial) worst-case assessment is liable to be activated in approximately another year."
Commenting on the revelation, Israel's intelligence minister, Israel Katz, tweeted an explicit warning to Iran:
The courageous decision of the Israeli government almost 11 years ago to destroy the nuclear reactor in Syria and the successful operation following it sends a clear message:
Israel will never allow nuclear weapons to countries like Iran who threaten its existence.

— ישראל כץ Israel Katz (@Israel_katz) 21 марта 2018 г.
Incumbent Prime Minister Benjamin Netanyahu has insisted that Israel's policy must remain consistent.
PM Netanyahu: "The Government of Israel, the IDF and the Mossad prevented Syria from developing a nuclear capability. For this they are deserving of all praise. Israel's policy has been and remains consistent – to prevent our enemies from arming themselves with nuclear weapons."

— PM of Israel (@IsraeliPM) 21 марта 2018 г.
The Syrian government has repeatedly denied that there were nuclear facilities at the site.