The first traffic patrols that include only women have appeared on the roads of the northern emirate of Ras Al Khaimah, the Khaleej Times reported.
READ MORE: Daughter of UAE PM Posts 'Last' VIDEO After Mysteriously Disappearing – Reports
According to local police, two such patrols are already trained to work with female drivers. In particular, they will deal with accidents, where at least one party is a woman or a child. Patrols consist of female UAE nationals.
"Boosting and ensuring traffic flow on the roads of the emirate are part of their duties," Major General Ali Abdullah bin Alwan Al Nuaimi, Commander-in-Chief of the RAK Police said, as quoted by the newspaper.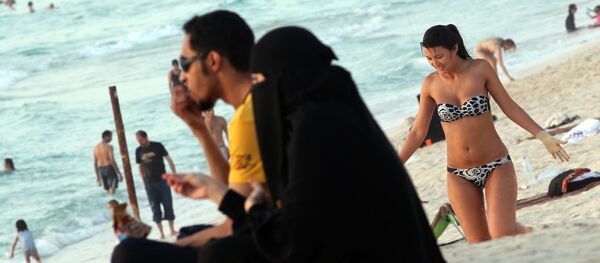 Women-only patrols will work at night — from 8 p.m. to 2 a.m. Thursdays, Fridays and Saturdays (Friday and Saturday are days off in the UAE).
In 2016, the Department of Municipal Affairs and Transport of the UAE's capital Abu Dhabi introduced special "ladies-only" parking bays within multi-story buildings.