A German right-winger was detained in Hungary on Wednesday for the allegedly illegal online sale of weapons through a website that urged citizens to stand up for themselves and fight migrants, Berlin prosecutors said.
According to the prosecutor's office, 34-year-old Mario Roensch is "strongly suspected" of running the rightist website Migrantenschreck (Migrants' fright) between May and November 2016 and calling for citizens to "arm themselves against refugees."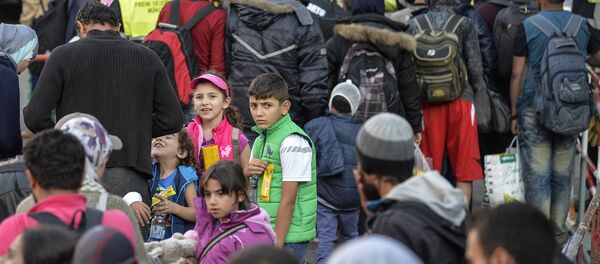 The suspect sold rubber bullets of the kind "that could cause serious injuries and kill people" and made roughly 100,000 euros ($124,000).
"He is believed to have illegally sold 193 permit-requiring firearms to buyers in Germany," the statement from the Berlin prosecutor's office read.
READ MORE: Right Now, 'We Have an Uncontrolled, Chaotic Migration Policy' — AfD Chair
Roensch, who had escaped from German authorities, was detained under a European arrest warrant during a raid on his Budapest home.
German media said Roensch was also considered to be linked to the infamous right-wing Facebook page Anonymous.Kollektiv and the online portal Anonymousnews.ru, providing anti-Islam and anti-Semitic content.