The Montenegrin government said Wednesday it had decided to expel a Russian diplomat and revoke the approval of the activities of the Russian Honorary Consul in the republic in connection with the poisoning of former Russian intelligence officer Sergei Skripal.
"The Government of Montenegro has decided to proclaim a diplomatic representative accredited to the Russian embassy as persona non grata and to withdraw consent to the activities of the Honorary Consul of Russia in Montenegro. The Russian Embassy in Podgorica has been notified of these measures and given a period of seven days, so that the diplomatic representative could leave Montenegro," the government declared.
Earlier, Prime Minister Dusko Markovic said that the government will decide on the expulsion of Russian diplomats in the next two days.
READ MORE: Ireland to Expel 1 Russian Diplomat Over Skripal Case — Foreign Minister
Over 25 countries, including the United States and EU member states, decided to expel Russian diplomats over Moscow's alleged involvement in the attack on former Russian intelligence officer Sergei Skripal and his daughter in the UK city of Salisbury.
London believes that the Skripals were exposed to the A234 nerve agent, which UK experts have claimed is related to the Novichok-class nerve agents developed in the Soviet Union. UK Prime Minister Theresa May has accused Russia of orchestrating the attack and expelled 23 Russian diplomats, while the European Union has expressed its solidarity with London.
Moscow has rejected all the accusations, saing that London had not provided any facts to substantiate its claims.
Sergei Skripal, a former GRU colonel who also worked for UK intelligence, and his daughter Yulia have been in a hospital in critical condition since March 4.
© Sputnik /
Countries that have expelled Russian diplomats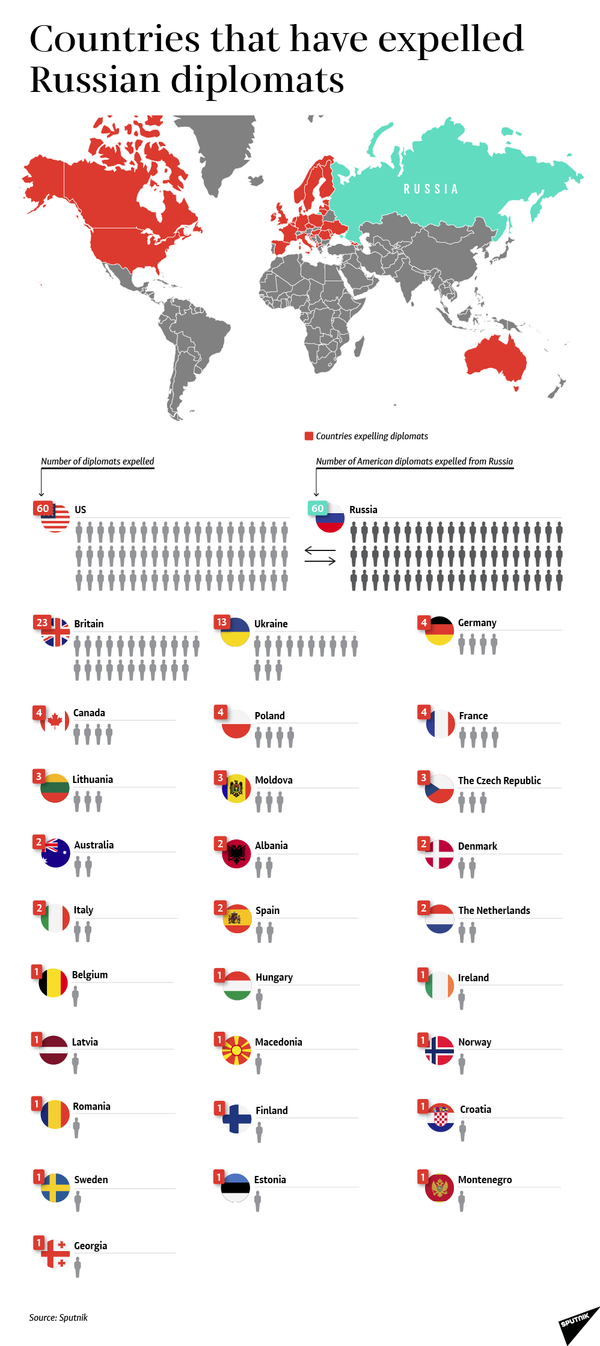 Countries that have expelled Russian diplomats