Mattis was nicknamed "Mad Dog" long ago, but he may want to change that to Cerberus — the Greek "hound of Hades" — since he is now keeping company with the so-called "devil incarnate" in Bolton. When the two met today for the first time since Bolton's appointment to the White House, Mattis' greeting shocked reporters.
"Thank you for coming. It's good to finally meet you. I've heard that you're actually the devil incarnate and I wanted to meet you," the secretary told Bolton on the Pentagon threshold. The exchange was picked up by a CNN reporter's microphone.
Bolton has earned a reputation as a "war hawk" for advocating or supporting armed conflict across the globe, notably with North Korea, Iran and Iraq. Sputnik spoke with filmmaker and journalist Robbie Martin after Mattis' remarks to discuss Bolton's reputation. Martin has directed a three-part documentary on the neoconservative movement.
"He embodies the neocon[servative] spirit from before, when they rebranded and tried to merge with the neoliberal class in DC. I could go down the list," Martin told Sputnik. "He was trying to add Cuba to the 'Axis of Evil' during the Bush administration. He was trying to get weapons inspectors into Cuba because he claimed they had a bioweapons program and we should consider attacking them or bombing some of their weapons facilities. He was actually caught on a hot microphone suggesting that Israel should preemptively strike Iran — a pre-emptive nuclear strike."
Martin says that the biggest difference between Bolton and other prominent neoconservatives is that Bolton has never swayed from his hawkish rhetoric, whereas others "decided to sort of rebrand and massage their rhetoric for the Obama era. Instead, John Bolton stuck to sort of the old neocon script. There was kind of a split among the neocons where some of the more conservative, more virulently Islamophobic neocons, split off into their own camp from some of the more neoliberal neocons."
"One of the most defining things [about Bolton] is that he was probably one of the main neocons who carried over the idea that we need Iranian regime change, to the point where he actually had a super PAC, called the 'Bolton PAC,' which put most of its money to [Senator] Tom Cotton (R)," Martin said. "They tried to get elected several senators that were extremely anti-Iran to be able to fold that into their platform."
Bolton was also one of four founders of the Project for a New American Century (PNAC), a highly influential foreign policy think tank during the Bush administration.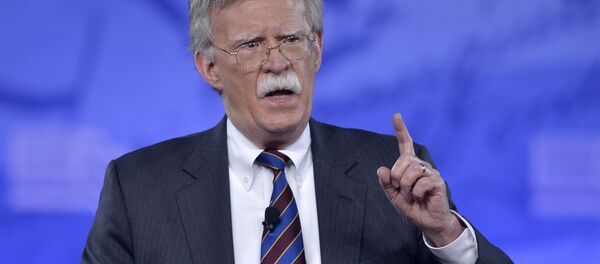 Besides fellow PNAC founder Bill Kristol, Bolton "seems to be one of the only neocons that has been able to raise a bunch of money and involve himself in politics to this degree," Martin told Sputnik. Bolton became a frequent contributor to Fox News during the Obama administration and continued to work in DC.
Since his recent appointment in the White House, however, Martin says that he and some of the other neocons who followed a similar path have started to adapt their rhetoric, similar to the other wing of the neoconservative movement.
"They were kind of pooh-poohing the idea of Russiagate, pooh-poohing the idea that Russia was an important focus — until Bolton's appointment. Until they expelled these diplomats. Now it seems like even Frank Gaffney, John Bolton, some of these outlier neocons are now flipping their script on Russia, whereas before they were just sort of not saying much about Russia," Martin said.