Between Sunday and Tuesday, Kim visited China at Xi's invitation, marking his first foreign trip as the North Korean leader. The Chinese Foreign Ministry said on Wednesday that the two leaders discussed the situation on the Korean Peninsula as well as bilateral ties. Their talks took place ahead of Kim's planned meetings with South Korean President Moon Jae-in in April and US President Donald Trump in May.
Pyongyang Seeking Improved Ties With Closest Partner
Zhiqun Zhu, a professor of political science and international relations at Bucknell University in the United States, said he believed Kim wanted to secure China's support before his meeting with Trump.
"It will be risky if Kim goes ahead to meet with Trump, completely exposed to pressure from the United States without meeting with Xi Jinping first. He needs to have somebody to fall back to if things do not go well," Zhu told Sputnik.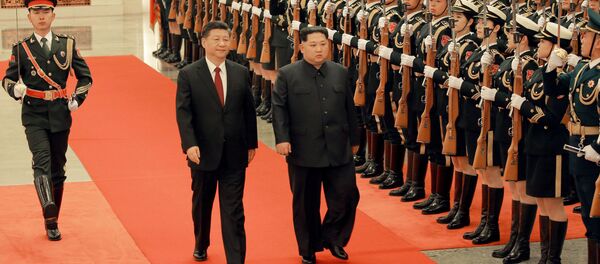 China remains the most important diplomatic partner for North Korea, despite the sour relations between the two countries, meaning that Kim's successful visit to China will bolster his negotiating position with Trump, the expert suggested.
"China, on the other hand, has reasserted its central role on the North Korea issue through this visit. So it is a diplomatic win for both North Korea and China," Zhu said.
Gi-Wook Shin, the director of the Walter H. Shorenstein Asia-Pacific Research Center at Stanford University, told Sputnik that Kim's visit to China was very timely and played a significant role in restoring the strained relations between the two states.
Shin suggested that both Beijing and Pyongyang were eager to hold bilateral talks before Kim's meetings with Moon and Trump "to share each other's views and expectations of the upcoming summit meetings."
"After all, China is North Korea's biggest ally and it is natural for China to want to be involved and for North Korea to want China to play a role along its side … Kim knew that he would need Xi's support in the lead up to (and during) his meetings with Moon and Trump, and he probably went to Xi to explain his main objectives and asked for Xi's understanding and support," the researcher pointed out.
Yun Sun, the co-director of the East Asia Program and director of the China Program at US-based think tank Stimson Center, agreed that Kim's visit to North Korea was very significant in terms of timing.
"It seems to suggest a rewarming of bilateral ties after years of deterioration, at least for the time being. China and North Korea showed their solidarity between the two countries. This will increase North Korea's leverage and options as well as strengthen its position in [Kim's] upcoming meetings with the US and [South Korea]," Yun told Sputnik.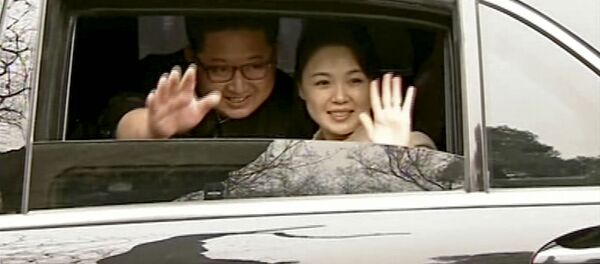 Harry Sa, a senior analyst with the US Programme at the S. Rajaratnam School of International Studies (RSIS) of Singapore's Nanyang Technological University, told Sputnik that it would be unwise for Kim to meet with US and South Korean leaders without first meeting with Xi.
Nevertheless, Sa emphasized that the Chinese-North Korean bilateral meeting was part of the protocol, but it was aimed at boosting Pyongyang's negotiating power for Kim's future talks on denuclearization.
"Beijing suddenly has a pretty big role to play in the upcoming negotiations over denuclearization on the Korean Peninsula … [North Korea] is going into talks to give up nuclear weapons that was attained through immeasurable suffering. Having Beijing in Pyongyang's corner will give it much more room to maneuver. It is also a chance for Pyongyang to get a first-hand account of Beijing's interests and limits on this matter," Sa pointed out.
Stephan Haggard, the Lawrence and Sallye Krause professor of Korea-Pacific Studies at the University of California San Diego, told Sputnik that it was "natural for both North Korea and China to coordinate on the upcoming summits, as China can potentially play a very constructive role in outlining its objectives, which we hope include forceful attention to denuclearization."
Haggard did however say that she was concerned that Kim may be seeking to relieve the sanctions imposed on his country over its nuclear and ballistic missile tests before engaging in denuclearization activities. The US researcher emphasized that the anti-Pyongyang sanctions should not be lifted until concrete steps are taken toward denuclearization.
Impact of China-North Korea Rapprochement on Denuclearization Efforts
Haggard suggested that in terms of denuclearization on the Korean Peninsula, China — and possibly Russia —might have a role in providing security assurances and assisting in the design of a new security architecture in the region.
In Sa's point of view, it is too early to predict whether the Kim-Xi meeting would have any notable effect on the denuclearization negotiations. The researcher did note, however, that the more support North Korea's would receive from its partners, the less likely denuclearization would be.
"A stronger bargaining position for Pyongyang means Washington needs to come up with more concessions, and that's not something the United States is comfortable doing on the Korean peninsula. But denuclearization will be a slow, drawn out, and painful process, and there are plenty of things that can derail the progress that we've seen," Sa said.

Unlike Sa, Shin said that the strengthening of Beijing-Pyongyang relations, which have worsened since Kim succeeded his father Kim Jong Il as the North Korean leader in 2011, was "a positive development."
"We cannot leave out China in the process and I hope and expect that after the upcoming two summits, a four-party framework involving the two Koreas, US, and China will be established," Shin added.
Zhu also believed that the rapprochement between Beijing and Pyongyang could promote denuclearization on the Korean Peninsula.
"A more confident North Korea is more likely to discuss denuclearization with the United States. Indeed, Kim reaffirmed his commitment to denuclearization in Beijing … I do not think North Korea will simply denuclearize without obtaining significant concession from the US such as diplomatic recognition or a promise to sign a peace treaty," Zhu suggested.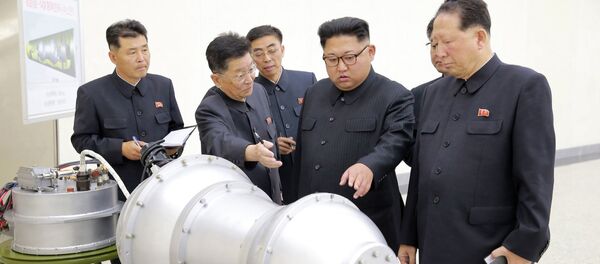 Yun, in turn, said she could not see direct connection between the improvement of Beijing-Seoul ties and denuclearization.
"China and [North Korea] used to have much better relations under [Kim Jong Il] and that did not stop [North Korea] from nuclearization," Yun explained.
Yun added that both Beijing and Pyongyang had claimed that the nuclear development of North Korea was motivated by the security threats being made by the United States, not the Chinese-North Korean relationship.