The talks will focus on the date and agenda of this April's summit of North Korea's leader Kim Jong Un and South Korean President Moon Jae-in, according to the Yonhap news agency.
The North's three-member delegation is led by Ri Son Gwon, the chair of the Committee for Peaceful Reunification, while the South's one has Unification Minister Cho Myoung-gyon at its helm.
Meanwhile, following the inter-Korean talks in April and Kim's meeting with US President Donald Trump in May, the bilateral DPRK-Japan summit could take place in June, Asahi Shimbun reported earlier.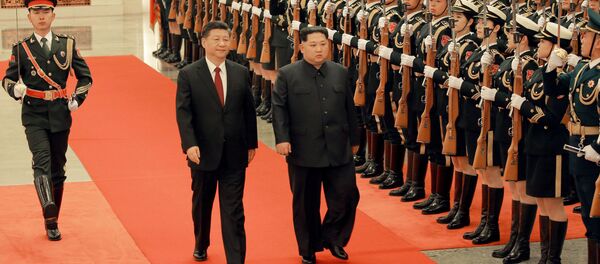 North Korea reportedly expects between $20 billion and $50 billion in aid from Japan if they normalize their relations, internal party papers reportedly revealed.
Earlier, papers circulated among North Korea's Workers Party members provide guidelines for possible ties with Japan, Russia, the United States, China, and South Korea, sources told Japan's Asahi daily. The sources indicate that Tokyo has been testing the waters for a summit between Prime Minister Shinzo Abe and North Korean leader Kim Jong Un.
Mended ties between Tokyo and Pyongyang could unlock billions of dollars in financial aid, the North hopes, while a successful summit with Trump would bring it security guarantees.
This comes amid growing criticism of Abe at home, whose foreign policy has been blamed for pushing Japan to the sidelines in the ongoing global effort to reach out to Pyongyang over denuclearization.