According to Der Spiegel magazine, the local authorities have already reached an agreement with the German Ministry of Justice on this issue. Sources told the magazine that the government's veto on Puigdemont's potential extradition would be perceived as a political and legal attack against the federal states to which Berlin transferred the approval procedure in extradition cases.
On Thursday, media reported that German lawyer Wolfgang Schomburg, who represents Puigdemont's interests, had called on the German government to prevent his client's extradition to Spain. Schomburg urged Berlin to declare, "without delay," that Germany should by no means grant political approval for extradition.
The lawyer also told the Sueddeutsche Zeitung newspaper that he intended to appeal to the German Federal Constitutional Court if the court in the state of Schleswig-Holstein decided to extradite the former Catalan leader.
On Sunday, Justice Minister Katarina Barley, Foreign Minister Heiko Maas, Chancellery head Helge Braun and Hans-Georg Engelke, an Interior Ministry deputy secretary, had a telephone conversation, during which all agreed that there should be no political interference, the publication added.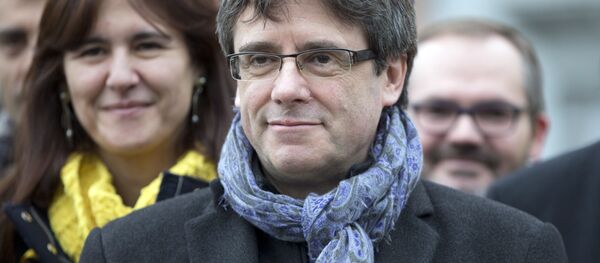 On Friday, the Spanish Supreme Court activated a European arrest warrant for a number of Catalan politicians, including Puigdemont. Shortly thereafter, Puigdemont was detained in Germany after he crossed the border with Denmark on his way from Finland to Belgium, and he is currently in custody in the German city of Neumunster.
He is scheduled to testify in the Schleswig-Holstein court on April 2. It is expected that the decision on his extradition will be taken no earlier than next week.
On October 1, Catalonia held an independence referendum, which the central authorities did not recognize. After the regional parliament unilaterally announced independence later in October based on the results of the vote, Madrid imposed direct rule over the autonomous region, dissolved the Catalan parliament, and called a snap election. Several pro-independence leaders were jailed, while Puigdemont fled to Belgium to avoid arrest.
In November, a Spanish court issued a European Arrest Warrant for Puigdemont and several other former members of the Catalan government. The following month, however, Spain dropped the warrant, saying that the former Catalan president appeared willing to return.
Puigdemont's arrest this weekend sparked protests across Catalonia, with about 50,000 people taking to the streets to show their support for their former leader.