Kristian Rouz — Japanese Finance Minister Taro Aso voiced his opposition to the idea of a bilateral trade agreement with the US, saying such a deal would hardly be beneficial for Japan. This comes as Japan is pursuing a multilateral Pacific trade deal, which is set to replace the Trans-Pacific Partnership after a US withdrawal from negotiations last year.
READ MORE: US, Japan Agree to Accelerate Bilateral Trade Engagement
Aso said Japan would not engage in bilateral trade talks with the US in exchange for exemptions from US industrial metals tariffs. The Finance Minister expressed confidence that Japanese GDP expansion is accelerating at a sustainable pace, and said exclusive bilateral trade deals are not a priority.
"When two countries negotiate, the stronger country gets stronger. That's unnecessary for Japan, so we've been saying all along that we would definitely avoid" bilateral trade negotiations, Aso said in his speech to Japan's legislature, the National Diet.
His remarks come in the context of a successful renegotiation of a US-South Korean trade deal, known as KORUS. US President Donald Trump had insisted KORUS was unfair to the US, but after the recent talks, the White House praised the fixed deal as a 'free and fair' trade agreement.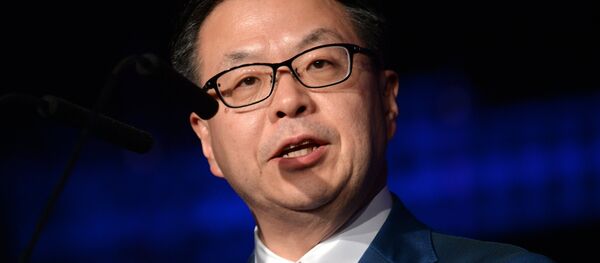 31 August 2017, 07:47 GMT
The renegotiated KORUS includes provisions against Seoul's deliberate currency devaluations aimed at boosting its exports, and provides concessions to US carmakers and Big Pharma.
Japan, however, is sceptical of such deals, as it has been focusing on advancing its exports on a global scale; umbrella agreements — such as the TPP — have been  deemed preferable by Tokyo.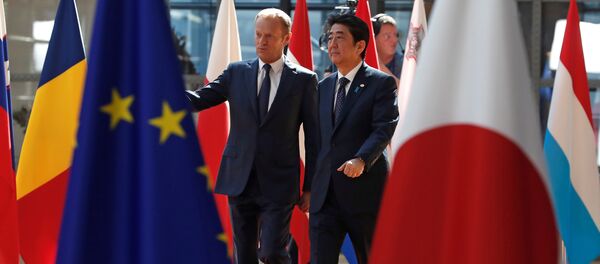 Additionally, a KORUS-style deal poses risks of a rapid strengthening of the yen — which is also a global reserve currency. Spikes in the yen's FX rate would undermine Japan's foreign trade, curb its exports and boost imports, likely throwing the nation back into the mire of economic stagnation and disinflation, which have plagued the Japanese economy for over two decades.
This comes as economists have observed a stable acceleration in Japan's economic growth, driven by domestic demand.
"Consumer spending is likely to pick up somewhat as the prices of fresh produce stabilize and smaller companies are pressed more to give raises due to the labor shortage," Takeshi Minami of Norinchukin Research Institute said.
A bilateral free-trade deal could force Japan to open its competitive and thoroughly protected agricultural sector to cheaper imports from the US. This could hinder inflation and mar Japan's GDP growth prospects.
READ MORE: Don't Look Back in Anger: UK Will Not Benefit From New EU-Japan Trade Deal
Meanwhile, Japan's efforts to negotiate carve-outs from the new US metals tariffs have yielded little success. This is not least due to last year's scandal around Kobe Steel, a Japanese manufacturer, which sent sub-par metal to US aerospace companies for the use in aircraft production.
However, Aso expressed confidence, even without tariff exemptions, the Japanese metals will remain highly competitive in the global market.
"Japan only exports special steel products in which it has outstanding market share, and US companies cannot produce," the Japanese Finance Minister said. "If US companies want these products, they need to buy them from Japan. It will be US companies that suffer."
Aso also pointed to an increasingly favorable international trade landscape for Japanese manufacturers. He cited the differences between Japan's and the US monetary policies as the reason why the dollar is poised to strengthen against the yen in the near-term, rendering Japanese exports increasingly competitive.