Commenting on the recent official visit made by Kim Jong-un to the Chinese capital, Russian political analyst Alexander Lomanov told Sputnik that this voyage reminded everyone that "things aren't being done on the Korean Peninsula without China's say-so."
"When China supported international sanctions imposed against North Korea, some experts speculated that Beijing no longer considers Pyongyang its ally. Now, however, it turns out that things are exactly the opposite: China remains an important and respected player [in the region], and North Korea does not publicly hold any grudges against China. Kim Jong-un came to Beijing, shook hands with Xi Jinping and discussed future plans with him, including apparently both countries' stances on the upcoming summits with South Korea and the United States," Lomanov said.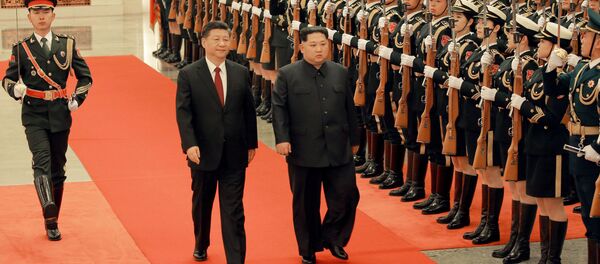 Lu Chao, head of the Center for North Korean and Republic of Korea Studies at the Liaoning Academy of Social Sciences, pointed out that while Kim's visit appears to have been an unexpected development for the international community, it was actually a very logical thing.
"An inter-Korean summit is scheduled to be held in April and a top level US-North Korean meeting is expected to be held in May. Prior to these events North Korea decided to consult its neighbor about these matters. It is natural, and it is also Kim Jong-un's first foreign visit since he assumed power; he simply followed the example of the previous North Korean leaders, who chose China as their first foreign destination," he explained.
And as Konstantin Asmolov from the Center for Korean Studies at the Institute for Far Eastern Studies pointed out, Kim Jong-un managed to show the world that he's capable of making swift and calculated decisions, as the results of his talks with Xi Jinping disprove claims about North Korea allegedly being completely dependent on China.
READ MORE: Nukes and Peace: What Was N Korea's Kim Doing in China
North Korean leader Kim Jong-un visited Beijing on Tuesday, March 27, arriving onboard a special armored train amid heavy security precautions to meet with his Chinese counterpart Xi Jinping.
During a banquet held in the Chinese capital, Kim stated that it was his "solemn duty" to make Beijing his first overseas destination and invited Xi to make an official visit to Pyongyang "at a convenient time" – an invitation that "was accepted with pleasure," KCNA reports.
The views and opinions expressed by Alexander Lomanov, Lu Chao and Konstantin Asmolov are those of the speakers and do not necessarily reflect those of Sputnik.