Syrian Minister of Transport Ali Hammud told Sputnik that due to numerous damages caused by the actions of militant groups, it's impossible right now to open the Damascus- Homs road that goes through the city of Harasta, Eastern Ghouta region to traffic. It first needs to be reconstructed and that will take some time.
"Maintenance crews are ready to start reconstruction; everything will be completed as soon as possible. Right now we are waiting for combat engineers to finish all the necessary checks. The launch of this regional road is going to be another victory over terrorism."
READ MORE: Syrian Army Reportedly Finds Israeli-Made Landmines, Grenades in East Ghouta
The minister added that the Syrian government had provided everything for the repair of the Damascus-Homs road. The road is going to be better and correspond to highest quality.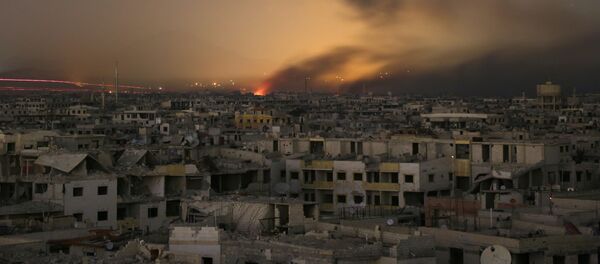 Traffic along the regional road through Harasta, near the capital, stopped several years ago. The road-bed is severely damaged as a result of constant fighting. It has become possible to begin the reconstruction now that the Syrian army has almost completely liberated the Eastern Ghouta region.
Syrian government forces have regained control of nearly all of Eastern Ghouta, the last rebel stronghold close to Damascus, according to media reports. Within Eastern Ghouta, only the town of Douma has yet to surrender.