"Our regular tracker on whether or not Brexit was the right decision is now consistently showing more people thinking that Brexit was the wrong decision. In the latest poll 45% think Britain is wrong to leave, 42% right to Leave," a press release on the results of the poll said.
Thursday marks one year since the United Kingdom launched its two-year withdrawal process from the European Union. The decision was made after 52 percent of UK voters supported the move in a referendum two years ago; 48 percent of voters opposed it.
Over 43 percent of UK nationals believed that the government should continue with Brexit under the current terms, while 9 percent said that London should seek softer terms of withdrawal. Moreover, 20 percent of those surveyed suggested that a new referendum on Brexit be carried out, while 13 percent said the government should stop the withdrawal process altogether.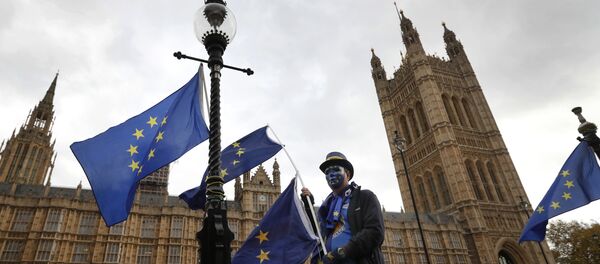 The pollster noted that support for a second referendum had been decreasing over the past 12 months. In April, 31 percent of UK nationals endorsed the idea of a second referendum, while 49 percent opposed it. The fresh data have shown that 36 percent of those surveyed believed that the government should hold a new vote on Brexit and 42 percent disapproved.
Fifty-six percent of UK citizens assessed the government's performance in negotiating Brexit as bad, while 28 percent thought the authorities were doing a good job.
Despite this, UK Prime Minister Theresa May, who heads the ruling Conservative Party, was seen by 34 percent of respondents as the preferred leader to negotiate Brexit. Fourteen percent said that head of the opposition Labour Party Jeremy Corbyn would do a better job at leading the talks.
The survey was carried out on Monday and Tuesday among 1,659 UK nationals.
Since June, London and the European Union have been engaged in Brexit talks. In December, the parties completed phase one of the negotiations, while earlier in March they agreed on the two-year Brexit transition period.