According to the newspaper, Berlusconi submitted a relevant appeal to a Milan court on March 12, while the latter is supposed to hold a hearing by late July.
The politician also reportedly seeks to overturn the ban in the European Court of Human Rights (ECHR). The ruling is not expected before the autumn.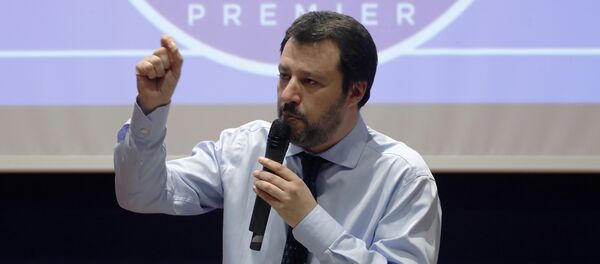 Back in 2013, Berlusconi was sentenced to four years in prison on tax-fraud charges, three of which were automatically pardoned and the rest 12 months were replaced by social community work due to the senior age of the politician. The tax-fraud conviction, however, led to the Senate barring him from public office for six years.
During the March 4 election in Italy, the center-right coalition, consisting of anti-immigrant Eurosceptic Lega party led by Matteo Salvini, Forza Italia headed by Berlusconi and Brothers of Italy and Us with Italy, won around 37 percent of the vote, while the anti-establishment Five Star Movement (M5S) received around 32 percent. The ruling Democratic Party (PD) won only 19 percent of the vote.
READ MORE: Five Star Movement's Fico Elected President of Italy's Chamber of Deputies
Since the election produced no absolute majority in parliament, Italy is expected to form a coalition government, with consultations on the issue between Italian President Sergio Mattarella and the leading political parties scheduled for April 4-5.
Once the consultations conclude, the Italian president will have to decide on whom to entrust with forming the Council of Ministers.