The Russian Foreign Ministry's spokeswoman Maria Zakharova called the search of the Aeroflot's plane "another provocation," noting that the British police actions looked as though London intended "to do something without witnesses."
"We cannot rule out this being another provocation by the UK authorities that they need in order to save, by all means, their truly tarnished reputation in connection to the so-called Skripal case," Zakharova said.
The ministry's response was followed by the Scotland Yard's statement obtained by Sputnik, in which the Scotland Yard said that it had not been involved in the inspection of the plane.
READ MORE: Russia Expels EU States' Diplomats in Tit-for-Tat Measures Amid Skripal Case
Meanwhile, the Aeroflot issued a statement, stressing that the UK actions violate international law, and added that the company awaits explanations from the British authorities regarding the inspection of the passenger plane.
Answering the questions whether Moscow is going to summon the UK ambassador over the incident with the aircraft, the spokeswoman said that the Foreign Ministry would inform London about further possible steps.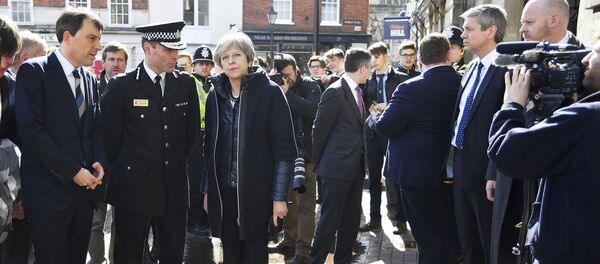 According to the spokeswoman, the representatives of the Russian embassy have set out for the airport.
Earlier in the day, representatives of the UK customs and police entered the Russian Aeroflot plane which was due to take off for Moscow from London's airport, the source in the Aeroflot told Sputnik. The British authorities claimed that they have to search the plane though they did not provide any reason or explanation for their actions, according to Zakharova. In addition, the UK demanded that the flight's captain and the crew were not present during the searches.
The incident occurred amid a major row over the poisoning of the ex-Russian intelligence officer Sergei Skripal, who also worked for MI6, and his daughter Yulia on the British soil. Although the investigation is due to take months, the UK claimed it was "highly likely" that Moscow was behind the attack and introduced a number of punitive measures, including the expulsion of Russian diplomats.