The new service created by Outrider Foundation, an NGO that seeks to raise awareness about global issues like weapons of mass destruction and climate change, is essentially an interactive map which allows one to see what kind of devastation a nuclear detonation can wreak in an area of their choosing.
© Outrider Foundation /
Nuclear Bomb Interactive Simulator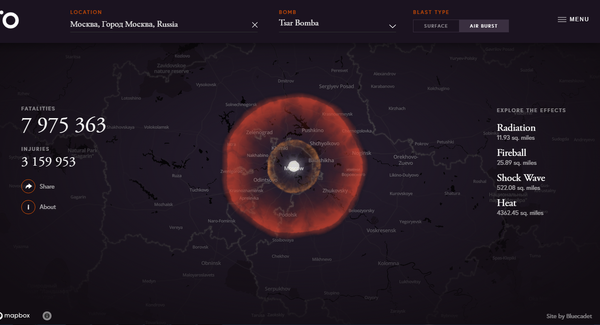 Nuclear Bomb Interactive Simulator
The users can also select different types of munitions to 'deploy' — ranging from a 15-kiloton bomb like the one dropped on Hiroshima in 1945 to the 50-megaton Tsar Bomba – the most powerful nuclear weapon ever created – and choose between surface blast and air burst.
"We live in a dangerous world. Nuclear weapons don't make us safer, quite the opposite," Tara Drozdenko, managing director of the Outrider Foundation, told Gizmodo. "Understanding the dangers is the first step in making a change toward a safer future."