According to SANA, the facility, which is one of the biggest in Eastern Ghouta, was discovered during a clearing operation in the city following withdrawal of militants and their families. Besides the explosive devices, the facility produced mortar shells and rockets, which were used during attacks on Damascus.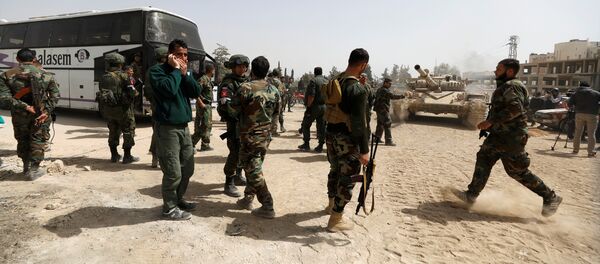 The Syrian army also discovered field hospitals, terrorists' headquarters and a developed network of underground tunnels, the publication said.
Earlier in the day, Russian Foreign Ministry spokeswoman Maria Zakharova said that the counterterrorism operation in Eastern Ghouta is nearing completion. The spokeswoman noted that Duma was the only city in Eastern Ghouta still under control of illegal armed groups, while the majority of civilians residing in the city had managed to leave the area through the humanitarian corridor.
The situation in Eastern Ghouta has been tense over the past weeks resulting in ongoing shelling by local militants on Damascus and fire from the Syrian pro-government forces. Syrian government forces have regained control of nearly all of Eastern Ghouta.