"We are already receiving a flurry of phone calls from the people from the consular district of Russia's Consulate General in Seattle asking for an appointment," Pisarev said. "In this situation we will be making appointments, but the line will be growing."
Pisarev said once decisions are made regarding the distribution of consular districts and remaining personnel, diplomatic staff will work to reduce the wait time for appointments.
Meanwhile, the closure the Russian Consulate General in Seattle will affect more than thirty thousand Russian citizens living in the area, Consul General Valeriy Timashov told Sputnik.
"We estimate that around 30,000 [Russian people] live in the area," Timashov said. "If there are over 100,000 people living in the United States, then over a third of the Russian community is being affected."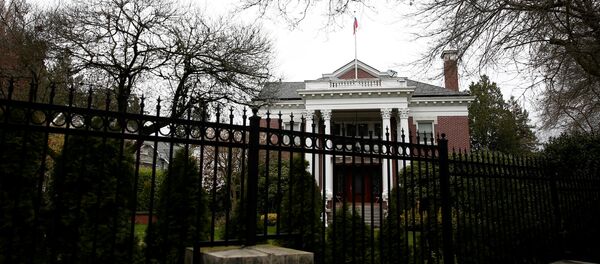 Timashov added, however, that Russian citizens will not be left without the support of the Consulate. A headquarters will be established in the residence of the Russian Consulate General in Seattle in the coming days to prepare the building for evacuation and consolidation.
"We have to leave the residence of Consulate General by the end of day on April 24," Timashov said. "We are in the process of implementing necessary measures to transport our belongings from this rented space into our residence. We will roll out headquarters there in the coming days, which will be in charge of further evacuation and consolidation of the building, to protect the interests of Russian citizens."
Timashov explained that he talks about the personal data of the applicants. "We are now working in enhanced mode from morning till night," Timashov said.
Valeriy Timashov also told Sputnik that they have a planned meeting with the US State Department in regards to the closure of the Consulate General.
"We already have a planned meeting with the representative of the State Department. I don't want to get ahead of myself here," Timashov said.

Valeriy Timashov said that no provocations from the US side have been seen with respect to the Consulate General residence since boosting security measures.
"As of now we don't see any provocations from US authorities. Our Consulate General, the residence is being guarded," Timashov said. "We have boosted security on the territory, and so far, thanks God, there have not been any provocations or extraordinary situations."
On Monday, President Donald Trump despite lack of evidence and in contradiction to promises to improve relations with Moscow expelled 60 Russian diplomats and closed the Russian Consulate in Seattle over allegations of involvement in the poisoning of former spy Sergei Skripal.
The Kremlin has strongly rejected accusations of involvement in Skripal's poisoning and has offered to provide assistance in the investigation. But Moscow's requests for samples of the chemical substance used to poison Skripal have been denied.