The diplomatic mission stopped providing consular services at 5:00 p.m. local time (21:00 GMT). After the doors shut, its staff took pictures together outside the consulate, in front of its sign, which was then removed.
The personnel have been given some more time to prepare for the departure. They will have access to the building until the end of April 1.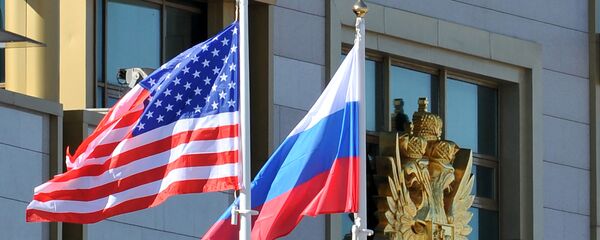 This follows a decision by US President Donald Trump on Monday to expel 60 Russian diplomats and close the Seattle mission over UK's allegations that Russia was behind the poisoning of former intelligence officer and his daughter in Salisbury, a claim Moscow has repeatedly denied.
The White House said the consulate was ordered shut in particular due to its proximity to a US submarine base and the defense contractor Boeing.
Uncertainty, Tears and Frustration
Following the announcement, hundreds of Russian citizens from the US West Coast rushed to the Consulate for last-minute consular services, including obtaining passports, visas and other documents.
In the last four days, the Consulate stopped accepting new applications and was only issuing documents.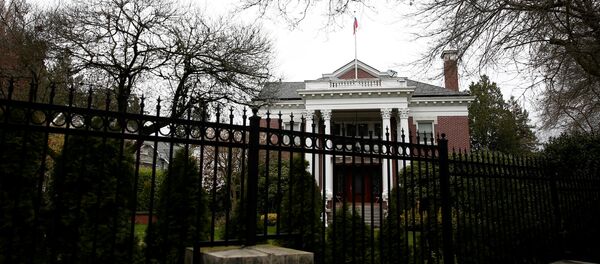 Russians on the US West Coast told Sputnik about the uncertainty they faced after the country's only consulate in the area, servicing tens of thousands, closed its doors indefinitely.
Sergei Sarkisyan flew from Los Angeles, California, with his wife and an eight-month baby son. The family were told they could not get a passport issued for the boy or renew his mother's ID ahead of the closure.
"We are very sad about this decision to close the consulate. Now, because of this situation we don't know when we will be able to see our relatives in Russia. I don't know when they will be able to see their grandson," Sarkisyan said. "The decision to close the embassy is so unfair."
Bella Wald from Oregon drove three hours to receive her new passport before the consulate closes this week.
"Our passports were ready, but we were postponing our visit here for some time. When we learned that the consulate is closing we hurried up here from because it is not clear what would be the fate of our documents — where to receive them then, where to go," Wald said.
"I think many Russian citizens are panicking now because it is very uncertain what we will have to do with regards to our documents in the future. It's worrisome to all people. This all creates a lot of problems and inconveniences," she added.
Yuri Gavrilov and his wife, who now live in the state of Washington, came to the consulate because of the ordered closure. They said they feared uncertainty because of the current situation.
"Our future is very uncertain because we don't know where we will have to fly for our documents, how much time we will have to spend and how much money it will cost," the Gavrilovs said.
"It is a very unpleasant situation. It is such a pity that the issues are being solved by governments in such way," Yuri Gavrilov said.
Senior Consul Halit Aisin told Sputnik earlier this week that the Consulate's archives would be transferred to the Russian Embassy in Washington, DC.
After the closure, those in need of consular services will be able to contact either the embassy or the Russian consulates general in New York and Houston. Staffers from Seattle will be reassigned to the three remaining missions. They were ordered by US authorities to leave Seattle by April 25.
West Coast Russians Fear Being Trapped
Russian citizens on the West Coast are afraid to find themselves trapped after the Consulate General closure.
Yevgeniya Kulik from Seattle came to the consulate with her baby on Wednesday and shared her concerns about the future for her family.
"There will be so many problems now. There won't be any consulate on our West Coast, and we will have to fly across the whole country to get documents, which is not always possible with little children," she said. "So, if there is a need for an urgent travel to Russia, it will be something like a trap for people."
Kulik is also worried about her relatives who may face difficulties in the future.
"I have several relatives who will need to renew their documents this year. For example, for my 70-year-old father. It is not that easy to fly for him," she explained.
Tatiana Palkunova, who lives outside of Seattle, rushed to the consulate to get her documents right after she learned about its upcoming closure.
"I am in shock. When I learnt about the ordered closure from the news, I cried," she said. "It will have a tremendous effect on the people. This consulate served many states. Some of my friends were coming here from Idaho, for example."
Tatiana said they will now have to go to the other coast which will be timely and costly."There are only three consulates left for the entire country, this is scary. I am scared," she added.
READ MORE: Russians Praise Work of Seattle Consulate General Staff in Days Before Closure
Aisin told Sputnik earlier that 250 to 300 people came to the consulate on Tuesday, a day after the announcement of US measures. Another several hundred visited the consulate in the following days.
Busy Last Days at Consulate
The Consulate staff spent the last days at the mission to help Russians get their documents as fast as possible and provide them with maximum information about what to do once it closes, citizens told Sputnik upon leaving the consulate.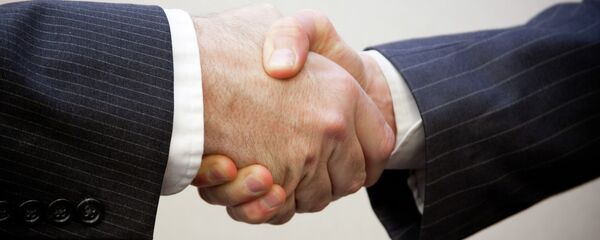 Some personnel in Seattle were transferred there from San Francisco after that mission was ordered shut last year and have now lived through two closures. Within roughly seven months they had to do the urgent packing twice, and twice changed many things in their lives.
Evgeny and Yulia Andrikanish drove some 13 hours from San Francisco right after they learned about the closure from the news.
"We applied for documents at the Consulate General in San Francisco, and it was closed maybe a week before we were to get our passports. Our paperwork was transferred here. Then, we were postponing coming here because we could not just agree on a date. And when we saw the news about the closure, we immediately drove here," Evgeny said.
Although everything happened unexpectedly, the couple noted, the work of the consulate's personnel was well coordinated, fast and very effective. "They provided people with full and maximum information about everything we need to know," Yulia said.
Venyamin Balahovskiy from the state of Washington was also very happy with how the consulate's personnel worked to help Russian citizens in the last few days before the closure.
"The personnel are doing what they can, they are doing their best. Everything went very fast and smoothly despite the fact that there is very little time before the closure. There was almost no wait," Balahovskiy said.
The man also told Sputnik it was hard for him to comprehend the reasoning behind the US decision to close the only consulate on the West Coast.
"I did not really believe it. I called the consulate and checked the website. The next day I found out that I pick up the passports," Balahovskiy said.
Some people cried, others were leaving happy because they revived their passports and visas and would be able to travel to Russia to see their families and friends.
READ MORE: US Consulate in St. Petersburg Redirects Citizens to Moscow Embassy
Everyone was wishing the consulate's personnel good luck, and thanked for their work and services. Many people expressed hope that the situation may be reversed and the consulate may be reopened in the near future.
But all the visitors shared their sadness, fears, and frustration over the US decision to close the Consulate General leaving the entire West Coast without a Russian consulate.