Sputnik: The military Schengen plan is designed to withstand so-called Russian aggression. What are your thoughts on that? Have there been any documented irrefutable proof of Russian hostility in Europe?
Rick Rozoff: It is something called the Berlin+ agreement, which effectively begins the process of merging military and foreign policy that permits the European Union forces to use NATO assets, NATO commanders. One is economic and diplomatic and the other is military and aggressive. The two are essentially one and the same phenomenon, both based in Brussels.
Sputnik: The integration of defense capabilities comes with a vision to create a European defense union by 2025. What do you think about this type of integration?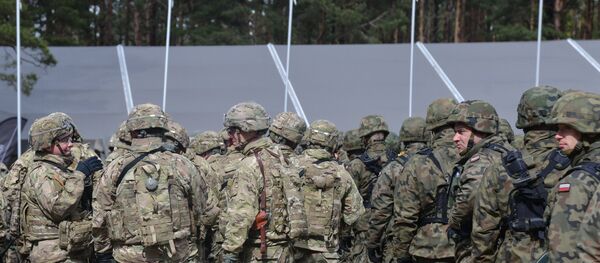 15 December 2017, 15:49 GMT
Rick Rozoff: There are already several prototypes of [integration] – the so-called Nordic Battle Group under EU auspices. It is [active] in the areas of the Baltic Sea, the Barents Sea, the Black Sea, areas bordering Russia or dangerously close [to it]. European military forces are meant to complement, not compete, with NATO. In fact, they are to be integrated.
Sputnik: Relations between Russia and the West have deteriorated in recent years. At what point can we expect a thaw in relations?
READ MORE: How NATO Uses "the Russian Scare" to Justify Alliance's Eastward Expansion
Rick Rozoff: When there is a political transformation in the West and no sooner. […] NATO [sees] its sole intention as containing and ultimately confronting Russia. To justify its own existence and expansion NATO has to create a Russian bogey. The artificially created and exacerbated Russophobia is in many ways a reflection of what's been going on in the US the last two years. It worked for the "deep state" in the US and I suspect it is working in Britain. Until the "deep state" itself is exposed, the prospects of having peaceful and productive relations between Russia and Europe and Russia and North America are pretty slim.
The views expressed in this article are solely those of the speaker and do not necessarily reflect the official position of Sputnik.