In Iraq, the issue of the PKK leaving Sinjar is still on the agenda. A number of key political and military figures, including an Iraqi army spokesman, an Al-Hashd Al-Sha'abi militia representative, and Prime Minister of Iraq Haider al-Ibadi, have said that the PKK has completely retreated from the Sinjar region near the northern border of Iraq, with government forces and Peshmerga units taking their place.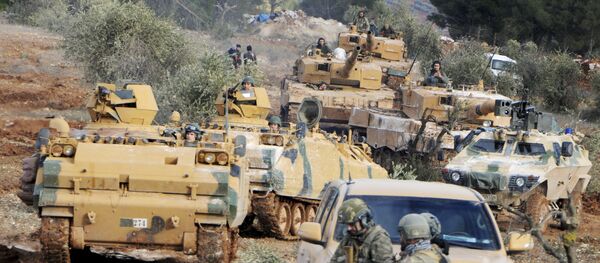 However, Xelil Shirvan, a Peshmerga representative in Sinjar, told Sputnik that the PKK has not, in fact, leave the area.
"The PKK leadership claimed it left Sinjar, but in reality it is not so. They made this statement to confuse the citizens of Sinjar and prevent a Turkish attack in the area. There are still some 500 militants of the PKK in the Sinjar mountains. In addition, there are some 2,000 Yazidi fighters of the Sinjar Resistance Forces, which is a division of PKK, despite having a different flag," Shirvan said.
He also underscored that there are rising tensions between Iraqi government forces located in Sinjar and several Peshmerga units.
"There are rising tensions between the Iraqi army and units under the command of Kasim Shisho, the commander of the Peshmerga in Sinjar. The Iraqi army intended to take Sherefedin — a major center of the Yazidi population in Sinjar. However, Peshmerga forces under Shisho's command stood up against it and stated their readiness to protect Sherefedin. This was the reason for rising tensions," he said.
Earlier this week, Turkish president Recep Tayyip Erdogan announced that the Iraqi military had started an operation against the PKK in Sinjar and stated that if Iraqi forces face difficulties, Turkey will take things into its own hands — a move vehemently opposed by Baghdad, which claims that such an action would be a violation of Iraqi sovereignty.