Under tight security, the Pontiff presided over the ritual — attended by about 20,000 — at Rome's ancient Colosseum that commemorates the death of Jesus of Nazareth, the religion's most prominent avatar.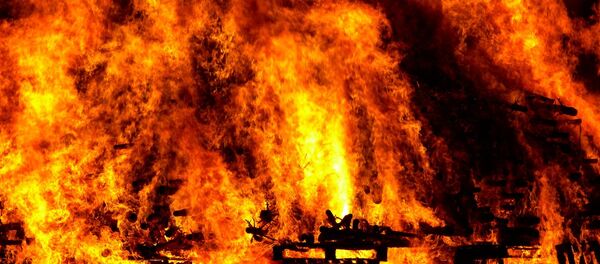 The faith's first Argentine pope, Francis stated that he was ashamed that future generations would live in a world divided by seemingly endless standoffs, conflicts and wars.
Pope Francis, 81, asked to be forgiven while addressing the "shame" that would be directed toward present-day leaders and lawmakers by future generations because those alive now are "leaving young people a world that is fractured by divisions and wars, a world devoured by selfishness… in which the young, the sick, the old are marginalized," according to a Vatican statement.
Following several recent anti-terror arrests, Italy's capital city has increased security for the annual Holy Week rituals of the Catholic church. An estimated 10,000 additional security force members have been added and military vehicles have been parked as barriers against possible truck attacks at well-known tourist hotspots.
The pope made mention of those within the church who are attempting to rebuild what he referred to as "humanity's sleeping conscience" by helping poor, immigrant, and incarcerated people.
The energetic pontiff pointedly detailed "shame because so many people, even some of your [God's] ministers, have let themselves be deceived by ambition and vainglory, thereby losing their worthiness."
A Saturday night Easter service will continue into Easter Sunday celebrations as Francis is scheduled to make his twice-yearly "Urbi et Orbi" (to the city and the world) address.
According to Vatican data, the 1.2 billion Roman Catholics make up about half of the estimated 2.3 billion Christians who occupy about 31 percent of global religious adherents.