According to the correspondent, a group of the US diplomats has left the building at 11:40 local time (20:40 GMT). They got into a Freightliner minibus and left the area. A commission that assessed the state of the building left the site following the diplomats.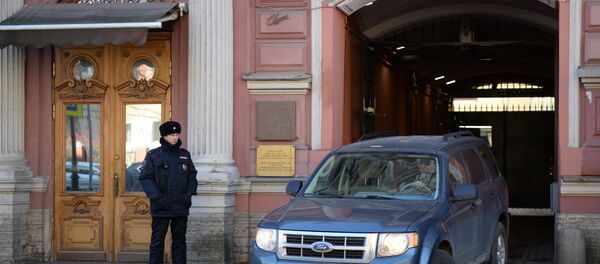 A police officer, who patrolled the surrounding area, has confirmed to Sputnik that no vehicles belonging to the US diplomatic mission remained on the territory belonging to the Consulate General.
On Monday, the US Administration expelled 60 Russian diplomats and closed the Russian Consulate General in Seattle after Sergei Skripal, a former Russian spy who worked for UK intelligence, and his daughter Yulia were exposed to what UK experts claim was an A234 nerve agent.
The Russian Foreign Ministry, in response, announced an expulsion of 58 diplomats from the US Embassy in Moscow and two employees from the US Consulate General in Yekaterinburg, as well as the closure of the US Consulate General in St. Petersburg.