"I am taking office at a very hard time for the region, after dozens of people – first of all our children – died in the terrible fire. I want to tell you, those living in the city of Kemerovo and the whole region, that I will do my best to make sure that those responsible for the terrible tragedy will get the severest punishment," Tsivilev wrote in his address to the people of the region.
Tsivilev also promised to provide all the necessary help to those injured in the recent deadly shopping mall fire in the regional capital and to the relatives of the victims.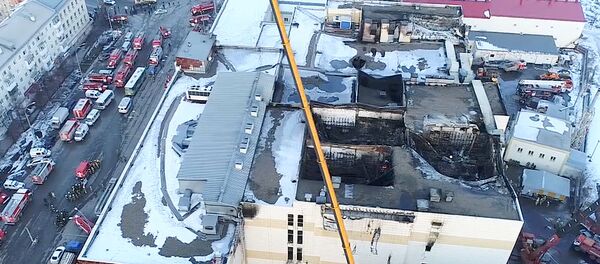 "We will forever keep the memory of the victims. We will not leave alone with the tragedy those injured and the relatives of the victims. We will do everything to provide them with all the necessary assistance and support. We must do our best to make the life of Kemerovo's citizens safe and decent" Tsivilev said in an address to the citizens.
The acting governor has held several meetings after his appointment.
Russian President Vladimir Putin earlier in the day signed a decree on early termination of powers of Aman Tuleyev, the Kemerovo Region's longtime governor, who had declared about his voluntary resignation. Tsivilev was appointed as acting governor until the election of a new regional head.
READ MORE: Kremlin: Most of 'Fake Reports' on Russian Mall Fire Come From Ukraine, Turkey
The resignation of Tuleyev, who had held office since 1997, came just a week after the deadly fire at the Winter Cherry mall in Kemerovo, which claimed lives of 64 people, including 41 children.