New Delhi (Sputnik): India's state-owned aerospace manufacturer Hindustan Aeronautics Ltd (HAL) has reported its highest-ever sales turnover of $2.7 billion during the financial year 2017-18, which ended on 31 March 2018. A year before, the firm had reported a turnover of $2.62 billion.  
"The company expects continued 'Excellent' rating for the FY 2017-18 from the Government of India on meeting all the relevant parameters related to its performance," HAL said in a statement. 
READ MORE: India to Fulfill Most of Its Fighter Jet Shortfall With Home-Grown Tejas
HAL claimed it has produced 40 new aircraft/helicopters and 105 new engines. It has also carried out an overhaul of 220 aircraft/helicopters and 550 engines. Last year, it produced 12 Su-30MKI aircraft and 24 ALHs, in addition to overhauling 194 aircraft and helicopters and 473 aero engines.
In a remarkably good year, HAL also bagged a new contract worth $7.7 billion for the manufacture of 83 Mark-1A light combat aircraft for the Indian Air Force. The company has also bagged an order of 41 Advanced Light Helicopters and 8 Chetak helicopters from the Indian Armed Forces.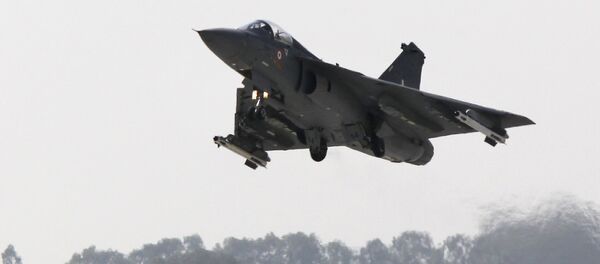 28 November 2017, 14:51 GMT
The state-owned firm has already tied up with private companies like L&T to make key components for an upgraded version of the Tejas fighter jet and hopes to rope in more private players excelling in different crafts related to the industry.
"The company strongly supports the Indian Armed Forces with its indigenous and license manufactured products. The company has also continued to emphasize on self-reliance towards the development of indigenous products, diversification into the civil segment, enhancement of capacity, support development of defense manufacturing eco-system by developing domestic vendors (including MSMEs) and enhance outsourcing. These efforts will provide steady growth of the company and opportunities to capitalize on the future requirements arising for Indian Armed Forces," T. Suvarna Raju, chairman and managing director of HAL said. 
READ MORE: India's Indigenous Fighter Jet Successfully Fires Derby Missiles in Radar Mode
The company also received the order of 15 limited series light combat helicopters (LCH) from the Indian Air Force (IAF) and the Indian Army last December. It had received orders worth $3.2 billion in 2016-17, which included the production of 12 Do-228 aircraft for the Indian Navy, 32 ALH for the Navy and the Coast Guard, and AL-31 FP engines for Su-30MKIs.