The Black Sea Fleet's former commander, Admiral Vladimir Komoyedov, welcomes the decision to relocate the Caspian Flotilla headquarters from Astrakhan to Kaspiisk in Dagestan as "strategically correct."
"From a strategic standpoint, all the neighboring countries are our good friends. Secondly, we are just moving the command and control headquarters there," Komoyedov said.
He added that having the fleet's strike force deployed up front is one thing and having its headquarters in the middle is another.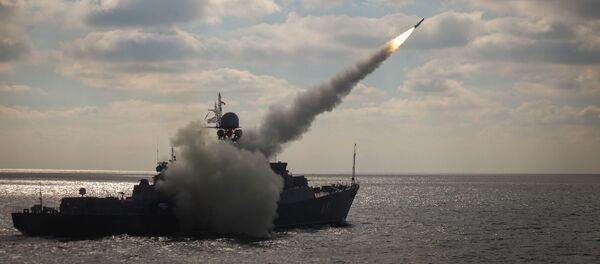 19 November 2017, 10:08 GMT
"My guess is that in terms of the ships' deployment and operation, including overseas ones, this might be a better way to go," the admiral noted.
Defense Minister Sergei Shoigu earlier had said that Russia will be closing the headquarters of the Caspian Flotilla in Astrakhan and moving to a new location in Dagestan.
"Vast construction work is in progress there: piers, logistic facilities and housing. The number of our officers and other personnel will increase manifold," Shoigu said at a conference of senior Defense Ministry officials on Monday.
A source familiar with matter told Sputnik that the transfer is slated for next year, but added that changes to the schedule were possible depending on funding.
The Caspian Flotilla is the maritime element of the Southern Military District, which is stationed in Astrakhan and ensures Russian national interests in the Caspian Sea region by carrying out antiterrorist activities, providing safety of trade, protecting national interests in the area of oil fields.
The flotilla consists of several brigades and divisions of surface ships and units of coastal troops. It operates the Tatarstan and the Dagestan missile ships, the Grad Sviyazhsk, the Uglich, the Veliky Ustyug corvettes and the Stupinets missile boat.
READ MORE: Russian Caspian Flotilla Ships Successfully Complete Kalibr Missile Drill
The Caspian Flotilla is also a strong factor in ensuring Russia's leadership on the world's largest landlocked sea where littoral states have been engaged in a 15-year-old tug-of-war over the sea's oil and bio resources.
The Caspian Flotilla gained prominence in Russia's strategic vision when it carried out a series of cruise missile strikes at terrorist positions in Syria in October 2015.