On Monday, Citrus County School District Assistant Superintendent Mike Mullen revealed in an emailed statement that the district had recently received Volitich's resignation. However, her resignation will not be official until it is accepted by the school board during a meeting scheduled for April 10, WPTV reported.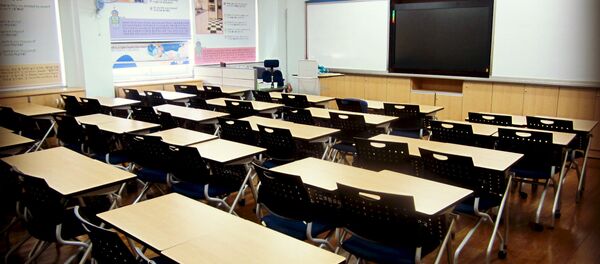 Following the Huffpost allegations, the Citrus County School District announced on March 2 that Volitich would no longer be teaching at Crystal River Middle School while officials investigated the claims made in the HuffPost report.
"The Human Resources department was notified and an investigation was initiated immediately," the district said in the statement last month. "The teacher has been removed from the classroom and the investigation is ongoing.
In a statement released last month by Volitich and obtained by WFLA, the teacher admitted to operating the podcast under a pseudonym but she denied that the accusations of having white nationalist views "have any truth to them" and claimed that she never inserted her political beliefs into the classroom.
"None of the statements released about my being a white nationalist or white supremacist have any truth to them, nor are my political beliefs injected into my teaching of social studies curriculum," Volitich wrote in a statement released March 4. 

21 December 2017, 21:59 GMT
According to the Huffpost report, Volitich used the name "Tiana Dalichov" to host her podcast, "Unapologetic," on which she shared white nationalist ideas, including anti-semitic conspiracy theories and her views that Muslims should be eradicated. She also detailed how she would voice her racial and political views in the classroom.
In the most recent Unapologetic episode, from February 26, Volitch discussed secretly spreading white nationalist beliefs in her classroom, boasting that when parents complained to school officials about their children hearing such views in class, she denied it.
"She believed me and backed off," Volitich said of Crystal River's principal, who had previously confronted her.
In another episode, guest Brian Hendrix said, "I don't like racists either, even though probably in the most technical sense of the word you could probably say I'm racist because I do believe that some races of people are inferior and superior — in certain ways."
"I would never say black people are, you know, crap people, they're inferior at everything, but there are certain things certain races can do better. Asians are way better at math in the aggregate than white people… and white people build cultures better than Asian people or black people… and we can view it all throughout history," he added.
Volitich responded, stating, "I think I would align myself similarly to your sentiment there. Like, I would pretty much say, yeah, OK, if believing that certain races specialize in certain things makes me racist then I guess that's what I am, because I do share your sentiment there. Everything you've said, like, meshes perfectly with what, you know, I'm kind of thinking on the inside here."
Volitich's attorney, Charles E. Moore, did not comment on his client's resignation.