Şahin Yaman, a former senior trade specialist at Turkey's Ministry of Economy, who also served as the chief commercial counsellor of Ankara's trade mission to the World Trade Organization (WTO), spoke exclusively to Sputnik reporter and columnist Suliman Mulhem about Turkey's future trade relations in the international arena, and the unlocked potential of Russia-Turkey trade.
"In line with the overall reorientation of the global economy's shifting center of the gravity away from the major OECD economies towards East Asia, Turkey has been calibrating its trade policies not only in enhancing and diversifying its goods and services exports but also looking for gradual geo-economic risk diversification and re-alignment," Mr. Yaman – who currently serves as the director of business development for the Turkey & Central Asia region at Performance Consultants International – told Sputnik.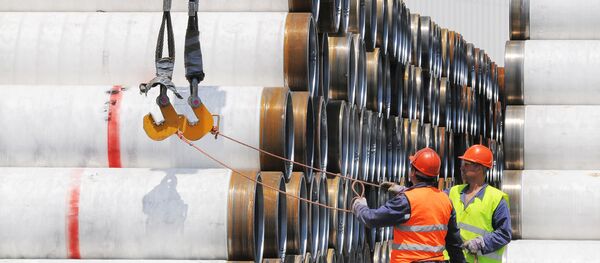 The Turkish trade expert went on to say that Turkey-EU trade will fall over the coming years, while trade between Moscow and Ankara will continue to "grow steadily."
"Although bilateral Turkish-EU goods, services and investment markets seem to be preserving their importance for Turkey's overall trade in the near future, Europe's relative share in the Turkish market will significantly lessen before reaching its steady state. The prospect for Turkey-Russia trade potential seems to be quite the opposite; it is expected to grow steadily."
Turkish businesses made significant progress in the Russian market in 2017, with the Turkish Exporters' Assembly (TIM) reporting a 52.5 percent increase in Turkish exports to Russia in the space of eight months.
READ MORE: Turkish Investment in Russian Economy Amounts to $10Bln
Mr. Yaman said the Russian Federation is a "significant market for Turkish goods, services and investments," before going on to describe it as an "important channel for joint cooperation with third parties, especially with other members of the BRICS economies where Russia plays a critical role."
He also outlined areas of potential growth in Turkey-Russia trade and economic cooperation.
"Energy and environmental industries, machinery, transport, the manufacturing of chemicals and advanced metallurgy agriculture are the areas which seem to bear huge potential. There's also scope for collaboration related to artificial intelligence (AI)," he told Sputnik.
"The current geopolitical setting provides Russia and Turkey with all the necessary domestic and international conditions to enhance their cooperation in strategic sectors such as defense, space, aviation and related civil industries. The Akkuyu nuclear facility is a big step in this regard to further develop industrial cooperation."
READ MORE: Russia to Take Steps to Speed Up S-400 Delivery at Turkey's Request – Official
Mr. Yaman called for the trade imbalances between Russia and Turkey to be addressed, and claimed that such an objective could also bolster bilateral political cooperation.
"However, there is a strong need to tackle the asymmetry in trade balance. Recalibrating and balancing Turkey's current goods and services trade imbalances with Russia could further help and sustain for better future political cooperation which will have global implications," the trade expert concluded.
The views and opinions expressed by the speaker do not necessarily reflect those of Sputnik.