Hungarian Deputy Justice Minister Pál Völner warned on April 3 that if pro-Soros candidates are elected, they will economically "floor" Hungary.
The deputy minister went on to say that Soros' candidates will also make Hungary unsafe by allowing migrants to enter, in line with proposed EU migrant distribution quotas.
"The left-wing parties would not only do away with border protection and allow in the migrants, but would also 'squander' the majority of state assets. They would once again ruin the national economy and pass over its supervision to foreign economic superpowers," Deputy Justice Minister Pál Völner was quoted as saying by an official Hungarian government press release.
Additionally, the minister warned that the cost of housing the migrants would be burdened upon Hungarian citizens and businesses.
"In addition, they would also make the people of Hungary and Hungarian enterprises pay for the cost of maintaining the migrants."
Mr. Völner also claimed that the EU plans to resettle around 10,000 migrants in Hungary as part of the first phase of its intra-Europe migrant redistribution plan.
Based on the estimated cost of settling each migrant in Hungary (US$35,000) by another Hungarian official, the total cost for Hungarian taxpayers of the first phase of the EU's plan will be around US$350 million.
"This is the Soros Plan, which Brussels would like to put into practice at the earliest opportunity," the deputy minister added, referring to the EU's migrant resettlement plan.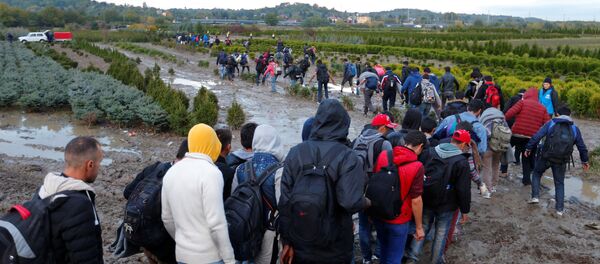 Although Hungary isn't a popular migrant target destination, tens of thousands of migrants travelled through the country in 2015 alone, en route to wealthier EU member states, such as Sweden and Germany. 
In response to the migrant crisis, Hungary built barriers along the Hungary-Serbia and Hungary-Croatia borders.
READ MORE: Half of Sweden's 'New Arrivals' Reportedly 'Lack Compulsory Schooling'
Early polls are forecasting the ruling Fidesz Party, and the Christian Democrats People's Party – which is considered to be a satellite of Fidesz – to perform well in the parliamentary elections this Sunday.