Isabel García, co-founder of Coalición de Derechos Humanos, a US grassroots organization that promotes the human and civil rights of all migrants, told Radio Sputnik's Loud & Clear that the National Guard deployment shows the administration's ignorance of and hatred for immigrants.
​"This has been what we have been trying to call attention to for a very long time. For the president now to call the military to the border shows how far we have gone in taking away basic rights in this country," Garcia told hosts John Kiriakou and Brian Becker.
"We have allowed so many incursions of the Posse Comitatus Act," Garcia added.
The Posse Comitatus Act, signed by President Rutherford Hayes in 1878, limits the role that the National Guard and other federal troops can perform in the United States. At the time, troops were overseeing elections, going after criminal suspects and seeking out illegal whiskey production in formerly rebellious states following the end of the American Civil War in 1865.
The law was amended in 1981 to allow the military to play a surveillance role when it comes to the border with Mexico. However, the law states that the military cannot function as a police force by making arrests or using force.
"There are countries that permit their army to be at [their] borders. We've never had that militarized border because we supposedly have an act that protects us. Armed forces are trained to kill. We cannot have armed forces at the border. That is dangerous. You know this president is doing everything to whip up ignorance, hatred and anti-immigrant rhetoric."
On Wednesday, Kirstjen Nielsen, secretary of the US Department of Homeland Security, said that "our current border security and immigration laws fail the American people."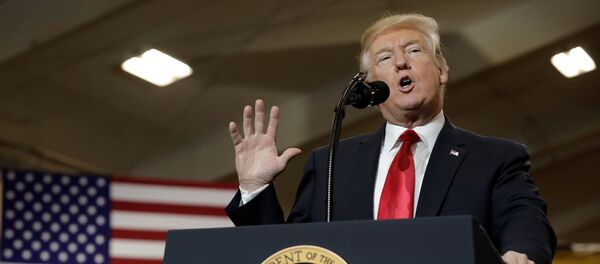 "The system rewards bad behavior. It does not punish lawbreakers. It undermines our nation's economic interests," she added.
Nielsen said National Guard troops would be deployed as soon as possible but declined to say how many would be sent to the border.
"As many as is needed to fill the gaps today," she responded vaguely.
Despite claims by Trump, illegal immigration decreased after the 2008 recession. In addition, the administration of his predecessor Barack Obama deported more than 2 million undocumented migrants over eight years. Although illegal immigration is at an all-time low compared to past years, figures from the Customs and Border Protection reveal that there has been a slight increase in illegal immigration in the past several months, which is what may have prompted Trump's decision to deploy the National Guard.
"The reality is that the US has benefited from the immigrant labor force from Mexico — that is the face of the immigrant in this country. And Mexicans have done nothing but build this country. The US should be thanking us instead of kicking us in the teeth," Garcia said.
"I found it appalling that Trump was tweeting about a so-called caravan of migrants," Garcia added.
"The big Caravan of People from Honduras, now coming across Mexico and heading to our 'Weak Laws' Border, had better be stopped before it gets there," Trump tweeted Tuesday.
"Cash cow NAFTA is in play, as is foreign aid to Honduras and the countries that allow this to happen. Congress MUST ACT NOW!" he added, threatening to cut off foreign aid to Honduras if migrants from the country cross the US-Mexico border to seek asylum in the US.
In December, the US government recognized Juan Orlando Hernández as the president of Honduras, even as locals mounted angry protests at what they believed to be a fraudulent vote count.
"The American public needs to wake up and see what we have done in Honduras, that there is an illegitimate president there. Trump acts shocked that people are walking toward the US after their countries were devastated by US policies," Garcia told Radio Sputnik.
"It's a dangerous move," she noted, referring to the military border deployment.
Garcia warned that immigrants are used by the government as an excuse to violate people's rights, violations that then get extended to the public as a whole. "This has major implications for immigrants and for all of society."
"The next step is military on the street."