A Syrian army mop up operation in the villages of al-Salehiyeh, al-Dowayer, al-Kashmeh and Sabikhan in eastern Deir ez-Zor governate has discovered several major Daesh (ISIS) weapons and ammunition depots containing Israeli and NATO weapons, the Syrian Arab News Agency reports, providing video evidence of the find.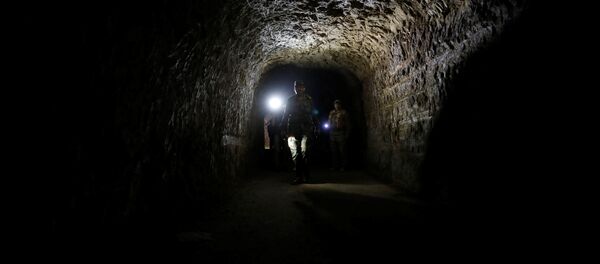 The stocks of weapons shown in the video include rocket-propelled grenade shells and mortars, large caliber ammunition, heavy rockets, as well as improvised explosive devices, suicide belts, and chemical warfare kits. Some of the arms have clear Israeli and US markings.
An officer speaking to SANA said that many of the rocket-propelled grenades were discovered in a secret Daesh arms cache in al-Salehiyeh, with the al-Dowayer depot containing rocket launchers and several types of mortar shells. Anti-tank missiles were found in al-Kashmeh. Finally, Sabikhan was the home to roughly 60,000 rounds of ammunition, as well as barrels of chemicals used for the makeshift creation of explosives.
A second video shows artillery shells, anti-tank missiles and stocks of ammunition found in a village. The weapons were thought to be used by Daesh during the siege of Deir ez-Zor, which lasted for over three years before being lifted in September 2017 after the Syrian army and its allies freed it of the militants.
Elsewhere, in the recently liberated areas of Eastern Ghouta, Syrian forces continue to discover caches of militant weapons, crude shell-making facilities, tunnels large enough to drive vehicles through, and more. The finds have included the rockets and artillery used to shell the nearby capital of Damascus for several years before Eastern Ghouta was cleared in Operation Damascus Steel, which has entered its final stage.