"Iran pursues a defensive deterrent policy in the Persian Gulf and the Sea of Oman through an active and all-out presence," Major General Gholam Ali Rashid, a senior commander of the Iranian Revolutionary Guards Corps, said, as quoted by Press TV.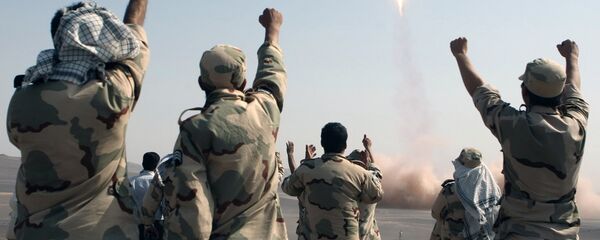 21 February 2018, 00:47 GMT
He underscored the need to scrutinize and manage all developments in the country's southern waters and adopt adequate measures in the face of "unforeseen events."
General Rashid has warned that Iran would defend the country's interests and counter all provocative and destabilizing actions in the region.
"No country must test Iran's strategic power or try its patience in defending its interests and establishing stability in the region and make a miscalculation," he pointed out.
Iran's supreme leader Ayatollah Ali Khamenei said in October 2017 that the country's defense capabilities are not negotiable, in remarks made amid increased US pressure over Tehran's ballistic missile program.
Khamenei also underscored the country's firm resolve to defend itself in the face of "enemy attempts" to weaken the nation.
Iran severed diplomatic ties with Israel immediately after the 1979 Revolution and the country's government doesn't recognize the legitimacy of Israel as a state.
Israel, in its turn, regards Iran as a threat to the region, especially criticizing the Iranian nuclear deal (JCPOA) and slamming the decision to lift sanctions on Iran within the deal.
February saw a major escalation in the conflict between Israel and Iran in Syria. The Israeli army said its helicopter had intercepted an alleged Iranian drone launched from Syria and that the Israeli Air Force (IAF) had struck what it called Iranian targets in Syria.
READ MORE: Riyadh Recognizing Israel's Right to Exist 'Part of Anti-Iran Project' — Analyst
Syrian air defense systems responded by shooting down an Israeli F-16 fighter jet.
Israeli jets later struck a number of targets in Syria, including Syrian air defense batteries and what Israel has described as Iranian military facilities, the country's Defense Forces (IDF) said.