On Sunday, Israeli Defense Minister Avigdor Lieberman denied reports about a number of "naive people" having been killed in the Hamas-governed Gaza Strip.
"Everyone's connected to Hamas, everyone gets a salary from Hamas, and all the activists trying to challenge us and breach the border are Hamas military wing activists," Lieberman told Israel's public radio.
Health officials in Gaza earlier said that 30 Palestinians, including a journalist, had been killed during 10 days of protests and clashes with Israeli security forces, AFP reported from Jerusalem.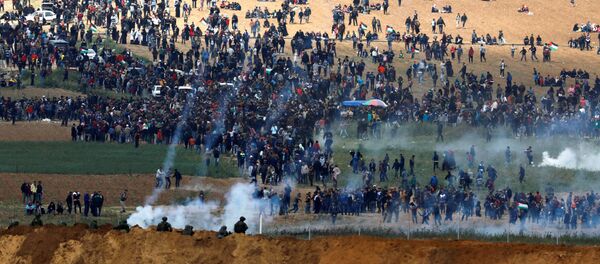 Violence
along the border fence which separates the Palestinian enclave from the territory of the Jewish state, flared up again on Friday leaving nine nine Palestinians, including a journalist, dead.
Palestinian journalist Yasser Murtaja was killed on Saturday after covering mass protests along the Israeli border the previous day.
Witnesses said Murtaja was over 100 meters (yards) from the border, wearing a flak jacket marked "press" and holding his camera when he was shot in an exposed area. The Israeli military has said it fired only at "instigators" involved in attacks on soldiers and was investigating Murtaja's death.
Friday's clashes came a week after 19 Palestinian protesters were killed in clashes that happened on March 30.
There have been no reports of any Israeli casualties so far.
Rights groups have slammed Israeli soldiers' actions, and Palestinians say that the protesters shot posed no threat to troops.
Israeli authorities say that they opened fire only to prevent damage to the separation wall, infiltrations of Israeli territory and attempted attacks by protesters allegedly used by Hamas as cover to carry out violence.
Defense Minister Lieberman mentioned thousands of incidents where Hamas "dressed up as journalists."
"We won't take any chances. I think it's clear to everyone that the IDF is the most moral army in the world," Lieberman added.
READ MORE: WATCH Footage of 'Great March of Return' Protests in Gaza From Bird's Eye View
Following US President Donald Trump's decision to recognize Jerusalem as the capital of the Jewish state Hamas has vowed retaliation, which resulted in attacks, triggering retaliatory airstrikes by Israel.
In addition to this, Hamas announced in December 2017 the beginning of the third "intifada."
The previous intifadas in 1987-1991 and 2000-2005 left hundreds of Israelis and thousands of Palestinians dead.
This article has been updated to better reflect the quote by the Israeli defense minister.