New Delhi (Sputnik) — In a bizarre incident, eight Indian policemen have been accused of kidnapping a businessman and forcing him to transfer 200 Bitcoins worth $1.8 million to an unidentified account. The criminal investigation department (CID) of the Gujarat police has filed a criminal complaint against all eight policemen but was able to arrest only two of them on Sunday. Six others are reportedly absconding. According to the CID, a lawyer was also involved in the kidnapping and a case has been filed against him too.
"Two policemen — constables Babu Der and Vijay Vadher — were arrested on Sunday. All other accused have gone underground. Efforts are on to nab them," Ashish Bhatia, director general of police, CID (crime), said.
READ MORE: India Bans Banks, Financial Institutions from Dealing With VCs including Bitcoin
The incident took place last month in Surat, a busy industrial town in the western state of Gujarat, when eight policemen of Amreli district's local crime branch unit and a lawyer allegedly abducted local businessman Shailesh Bhatt and took him to Gandhinagar on February 11, where they forced him to transfer 200 bitcoins to an unidentified account, while also demanding a ransom of $4.9 million to free him.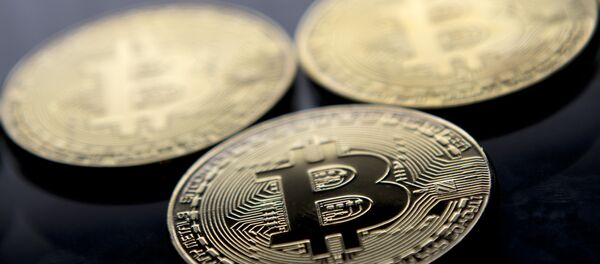 19 December 2017, 12:01 GMT
The abductees reportedly released the businessman on the same day after he promised to pay them the ransom.  After being freed, the businessman approached the police and filed a complaint on February 23.
Meanwhile, the CID is reportedly also investigating secret information that the businessman had stolen bitcoins from someone.
This is the second such incident in Surat in the last one month. On March 11, two policemen — Anisuddin Saiyed and Chintan Shah were arrested for abducting a businessman and demanding ransom from him in bitcoins.
Following the massive surge in the value of bitcoin, cases of abduction and fraud for the virtual currency have increased in India. Last June, a group of six people was arrested on the charge of abducting and demanding ransom in bitcoins from a businessman in the northern city of Mohali. In September, police had arrested six other persons for kidnapping, beating and robbing a New Delhi businessman who had gone to meet them in order to pay for Bitcoin in cash. 
READ MORE: Indian Gov't Vows to Weed Out Cryptocurrencies From India
Block Chain and Cryptocurrency Committee, an industry body- estimates that at least 4 to 5 million people in India hold some kind of cryptocurrency and that 60% of them entered the market between October and December 2017 when bitcoins' value peaked.
The Indian authorities have issued repeated warnings to Indian citizens against virtual currencies since, according to the Reserve Bank of India (RBI) and the country's finance ministry, bitcoins do not possess any intrinsic value and there is high possibility of fraud and robbery. Last week, the RBI barred banks and regulated financial institutions from giving their services to customers dealing in virtual currencies.