Two post mortem examinations were unable to determine the cause of death but press reports in 2012 suggested scientists had discovered the presence of gelsemium, often known as "heartbreak grass".
The plant, which only grows in China, produces a deadly toxin.
On Tuesday, April 10, Professor Monique Simmonds, a botanist and Deputy Director of Science at Kew Gardens, was recalled to give more evidence about the tests she conducted on Mr. Perepilichnyy's body.
Peter Skelton, QC, counsel for the coroner, asked her a series of questions about the samples she took from the businessman.
The Guardian Russian who died in UK was fearful of returning home, inquest told The Guardian Skelton said: "Were you aware that Mr Perepilichnyy had spoken to Swiss authorities about a money-laundering operation in respect of the fraud?" Lipkin said: "We… https://t.co/SlRR8Afrkj pic.twitter.com/NZPq3p8LRG

— LutonTweets (@Lutontweets)

10 April 2018
She said she had found no traces of scopolamine, a toxin found in gelsemium and also in deadly nightshade (belladonna).
"Is it the case that you have not identified any plant toxins in the samples?" Mr. Skelton asked.
"That's right," replied Professor Simmonds.
Search to Identify 'Unknown Ion'
Bob Moxon Browne QC, a lawyer representing for Legal & General, the life assurance company who insured Mr. Perepilichnyy's life, asked her a series of questions about an "unknown ion" which was found in the dead man's body contents but she said she could not speculate about what it might have been.
Earlier in the day Dmitry Lipkin, a lawyer who had represented Mr Perepilichnyy during litigation in Russia gave evidence to the inquest by videolink from Moscow.
Mr. Skelton asked Mr Lipkin a series of questions about how he became Mr Perepilichnyy's lawyer in 2010.
The inquest, which began last year, has heard that Mr Perepilichnyy died outside his £3 million (US$3.44 million) home in St George's Hill, a luxurious gated community in Weybridge, an affluent area outside London.
Mr. Lipkin said he could not remember if he was introduced to Mr P by Hermitage Foundation, an investment company run by Bill Browder.
Forged Signature Was at Heart of Businessman's Troubles
But he said he defended Mr. Perepilichnyy successfully in dozens of lawsuits brought by companies who claimed his signature was on business contracts.
Mr. Lipkin said Mr. Perepilichnyy had instructed him to tell the courts in Russia that he was unable to attend in person because he was "in fear of his life".
Mr. Lipkin said he was able to prove that Mr. Perepilichnyy's signature had been forged on the contracts and he was not liable for the debts which the litigants claimed.
© Fotobank.ru/Getty Images / Natasja Weitsz /
Alexander Litvinenko is pictured at the Intensive Care Unit of University College Hospital in London, England. (File)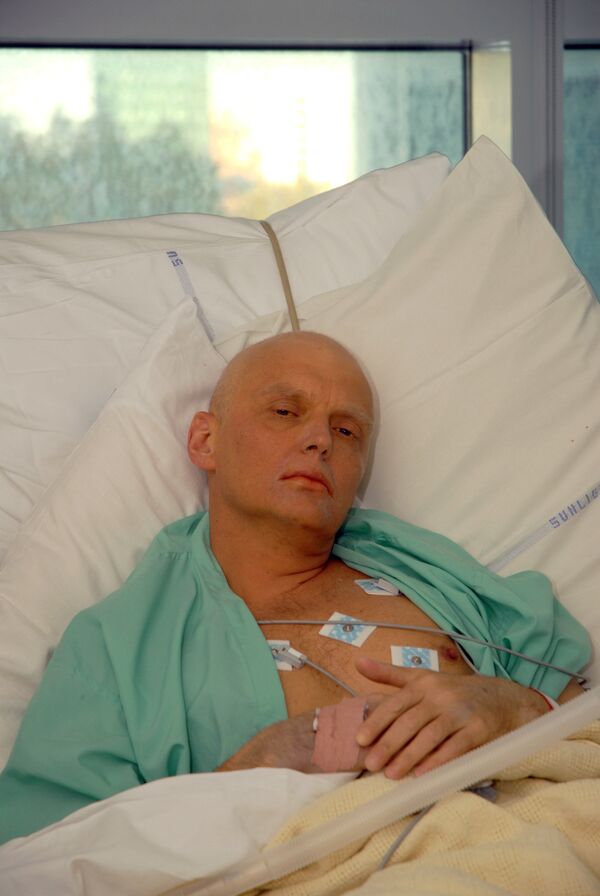 Alexander Litvinenko is pictured at the Intensive Care Unit of University College Hospital in London, England. (File)
© Fotobank.ru/Getty Images / Natasja Weitsz /
The inquest heard that one of the main litigants was Dzhirsa, a firm which allegedly was founded by Dmitry Kovtun.
Mr Skelton said a high court judge in London had ruled that Mr Kovtun — along with Andrei Lugovoi — had been responsible for murdering Mr. Litvinenko with radioactive polonium in 2010.
He asked Mr. Lipkin if Dzhirsa had a reputation for forcing money out of people by intimidation and threats of physical violence.
"I don't know. We won that case. I don't know anything about them," Mr. Lipkin, speaking through a translator, told the court.
Henrietta Hill QC, a lawyer representing Hermitage Capital Management, asked Mr. Lipkin a series of questions about an article published in the Daily Telegraph in December 2012.
The article purported to be an interview with Mr. Kovtun.
"I set up Dzhirsa on behalf of some friends who asked me to be the general director because I enjoy a certain reputation. They are former officers who help resolve business disputes — people call them 'the military men'," Mr. Kovtun was reported as having told the Telegraph journalist.  
John Beggs QC, a lawyer representing Mr. Perepilichnyy's widow Tatiana, later pointed out another key paragraph in the article which Ms. Hill had omitted.
"I heard about his (Perepilichny's) death but I didn't know him and I had no idea about these court proceedings between him and Dzhirsa," Mr. Kovtun reportedly told the journalist.
Conflict of Interest?
Mr. Beggs asked Mr. Lipkin why he remained friends with Hermitage directors Vadim Kleiner, Ivan Cherkasov and Vladimir Pastyuov, despite his firm having stopped working for Hermitage in 2012.
"Hermitage pay an insignificant amount of money for us to keep monitoring," Mr. Lipkin replied, insisting there was no conflict of interest between him representing Mr. Perepilichnyy and Hermitage.
"All clients are equal but some are more equal than others aren't they?" asked Mr. Beggs rhetorically.
The inquest is set to last until Friday, April 13, when Judge Nicholas Hilliard QC, who is sitting as the coroner, will adjourn before returning his verdict.