Many politicians and officials – including a number of Republicans and Trump allies outside of the US – are staunchly opposed to this potential military intervention, as there is no confirmation that Syrian President Bashar al-Assad was indeed behind the alleged attack and it's likely that such an anti-Assad military campaign will lead to further instability in the country.
The former leader of the UK Independence Party (UKIP) Nigel Farage said today that attacking Syria and overthrowing Assad's government could lead to *Daesh gaining strength and territory in the Arab state.
"What comes next [after Assad's removal]? Chaos, instability, and maybe, maybe a chance for ISIS to build their forces again. So I would say, even if tomorrow Trump attacks, not waiting for a UN resolution, he didn't last year, I don't think we should join, and even if we did get a UN resolution I would still be very thoughtful about this; What in the long-term, are we actually trying to achieve?" Mr. Farage said on April 11.
The former party leader, who currently serves as a member of the European parliament (MEP), also highlighted past failures of the West's interventionist foreign policy in the region, singling out the catastrophes in Libya and Iraq.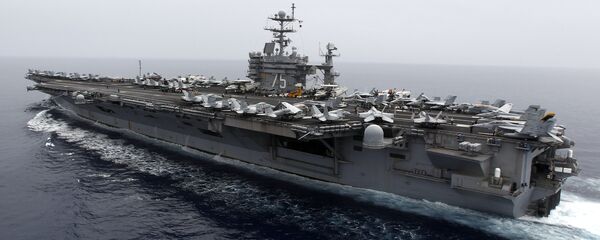 80 percent of voters in a poll by the Westmonster news site voted against a strike against the Syrian Army by the UK, indicating that there is little appetite for another war in the Middle East by the West.
UK Prime Minister Theresa May has said she believes that the Syrian government was behind the alleged chemical attack in Douma, but is yet to announce if she will order the British military to attack Syria.
Although May, as prime minister, doesn't legally need parliamentary approval to launch such a campaign, it has become a convention for the PM to allow the House of Commons to vote on such matters since the 2003 US-led invasion of Iraq.
Ex-UK Chancellor George Osborne urged May to attack Syria without seeking parliament's approval, drawing criticism on social media.
READ MORE: Ex-UK Chancellor Urges May to Attack Syria, Let Parliament Ask Questions Later
Both Damascus and Moscow previously warned that militants were preparing to launch such "provocations" in East Ghouta and are now threatening to respond to an attack against Syria.
*Daesh (also known as ISIS/ISIL/Islamic State) is a terrorist group banned in Russia.