New Delhi (Sputnik): India has approved the technical configuration of the Russian Kamov Ka-226T multi-role military helicopters — which is expected to begin replacing the Cheetah and Chetak helicopters of the Indian armed forces by 2020.
"Approval of helicopter configuration to be delivered and assembled in India means that the technical aspects of the project have been finalized. We and our Indian partners shall commence the preparation of contractual documents in the near future," Andrey Boginsky, the director general of Russian Helicopters Holding Company said at DefExpo, a biennial exhibition of weapons and military platforms, in Chennai on Wednesday.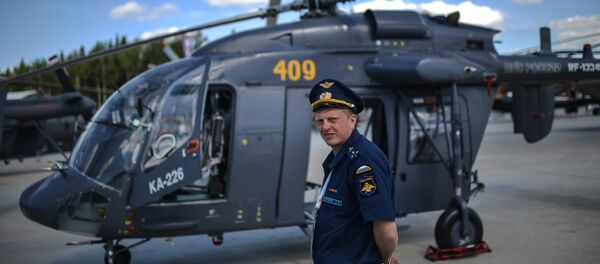 12 November 2017, 08:22 GMT
The Russian firm has also developed a training program for Indian pilots and technicians for the operation and maintenance of the helicopter in India. "The training of foreign specialists is one of the most important stages of implementation of the Russian and Indian Ka-226T project, as we have to ensure not only the supply of helicopters but also their professional maintenance and operation. For this purpose we have already prepared and sent to our partners a training program that outlines all the areas of training of the Indian specialists," Boginsky said.
"If the contract is signed this year, deliveries from the Russian plant can commence by 2020," said Dmitry Shves, the director of the project from Russia.
READ MORE: Ka-226T: Shining Mirror of Russian Helicopters' Bright Future (PHOTOS, VIDEO)
The Ka-226 series of helicopters are designed by the Kamov Design Bureau of Russian Helicopters, headquartered in Moscow. It is a lightweight, twin-engine utility helicopter, which features an interchangeable mission pod, allowing for various payload configurations to be used.
Russian Helicopters has also said it is willing to offer the naval version of the Ka-226T to the Indian Navy, which has floated a tender for the acquisition of 111 helicopters to be based on ship decks.