A Syrian Army field commander speaking to the Syrian Arab News Agency said that the ammo depots were found in the town of Zamalka, about 3.5 km northeast of central Damascus.
According to the commander, the Islamist Al-Rahman Legion militant group controlling the town effectively turned one of its neighborhoods into a network of factories and depots manufacturing and storing shells and the accompanying explosives, and turning spent tank shells into improvised explosive devices. These makeshift weapons production and storage facilities were all linked by a tunnel network.
Some of the explosive materials were Saudi-made, the commander said. Along with the explosives was equipment for mixing them with C4 or chlorine to increase the destructive power of the artillery shells which militants would lob into the capital's residential neighborhoods.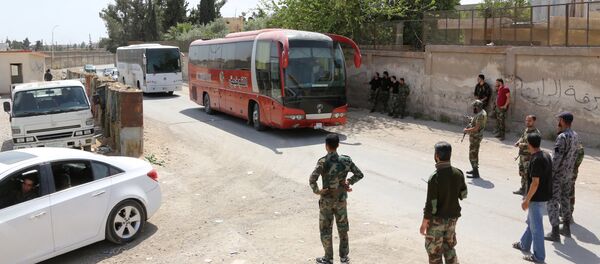 The Army also found several depots used to store large artillery shells, including shells for the widely used Grad rocket system.
Finally, the Army uncovered secret prison facilities where prisoners held by the jihadists were forced to do hard labor.
The Syrian Army wrapped up Operation Damascus Steel, a mission to clear the militant-held East Ghouta pocket following years of terrorist shelling of the capital, on Thursday. The operation, started on February 18, saw the Syrian Army and its allies fighting against a ragtag coalition of Islamists, including Jaysh al-Islam, the Al-Rahman Legion, Ahrar al-Sham, and the al-Nusra Front*, al-Qaeda's* Syrian affiliate.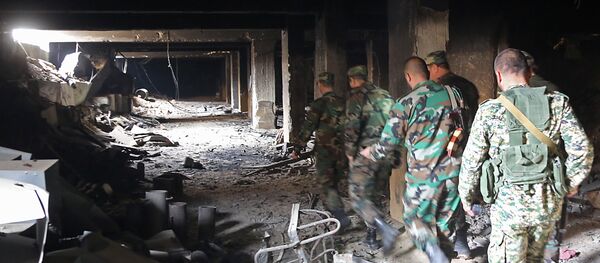 During its operations, Syrian troops have discovered large stocks of weapons from
Israel
,
the US
,
Belgium
and other NATO countries. They've also found vast underground facilities, from torture chambers and makeshift medical facilities to underground tunnels large enough to drive vehicles through.
Last week, just day before the Syrian military wrapped up Operation Damascus steel, opposition activists in Douma, Eastern Ghouta accused government forces of carrying out a chemical attack, prompting the US, the UK and France to threaten to launch strikes against the war-torn country. US Defense Secretary Jim Mattis said Thursday that President Trump has yet to make a decision on the matter.
* Terrorist groups outlawed in Russia.