"US ordered a brutal attack on Syria tonight. Children's arms and legs will be blown off; Syrian soldiers will be blinded and crippled. The war is a disgrace," Black said on Friday. "How many wars will we fight? I fought for this country, but this war is immoral. It is an unjust war of aggression."
Earlier in the day, the United States, the United Kingdom and France launched airstrikes at Syria over the reports of a chemical attack in the Syrian suburb of Duma. The Western countries are accusing the Syrian government of being behind the alleged chemical attack while Damascus refuted the allegations. Russian officials said that the chemical attack was staged as a pretext for the use of force against the Syrian government.
"Syrians wouldn't possibly use gas, since terrorists were quickly surrendering," Black said on Friday after the airstrikes. "Syria certainly wouldn't gas civilians and leave soldiers untouched. It was an obvious hoax."
Black, who personally met with President Bashar Assad during a visit to Syria in April 2016, warned that Trump's increasingly rash actions risk escalating into nuclear war.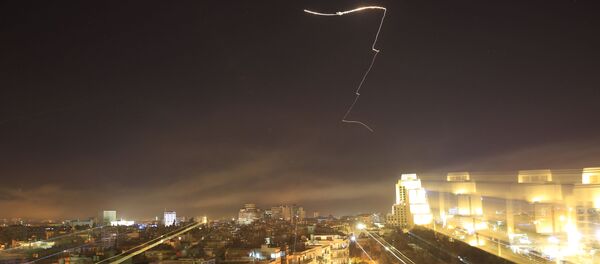 Russian Foreign Ministry spokeswoman Maria Zakharova said early Saturday that strikes on Syria came as the war-torn country got achance of peace, and underscored that the decision to fire missiles into Syria was taken by the White House based on media reports, information on symptoms of chemical poisoning, photos and videos and other purportedly reliable sources.
Russian Defense Ministry spokesman Maj. Gen. Igor Konashenkov said at a briefing on Friday that the video with the victims of the alleged Duma chemical attack receiving first aid, shared on the social media, was staged. According to the spokesman, the participants of the video were found, and they revealed the truth about the filming.
READ MORE: Syria Strike 'Attempt to Have Go at Russia', Boost Influence in Syria — Lawyer
The Russian military warned back in mid-March that the militants in Eastern Ghouta were preparing a provocation that might include a staged chemical weapons attack.