On March 31, the command of the Syrian army said that Damascus had liberated Eastern Ghouta which was previously under the control of Jaysh al-Islam militants. On Friday night, the United States, the United Kingdom and France launched airstrikes against Syria over reports of a chemical attack in Eastern Ghouta's Duma. Western countries are accusing the Syrian government of being behind the alleged chemical attack while Damascus refuted the allegations.
READ MORE: E Ghouta Mop-up: Militants Surrender Another Haul of Israeli, European-Made Arms
"Because they suffered a defeat in Syria, whereas Russia is successful and gaining victories. This is a sort of cold war. They … suffered a defeat in a number of countries, most recently in Syria. They suffered a defeat in [the] Geneva [talks] with their opposition members, whom they have long supported," she said, stressing that the liberation of Eastern Ghouta from terrorists had become a major event that "spurred Western countries to launch an operation."
According to Kassis, the event was an "even greater" driving force behind the military operation than an alleged chemical attack carried out by Damascus.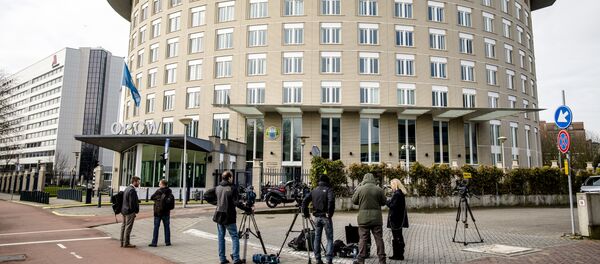 Citing US anti-Russian sanctions and accusations against Moscow amid the poisoning of former double agent Sergei Skripal in the UK town of Salisbury, Kassis noted that hostility toward Russia had started long ago but "is now gaining momentum."
READ MORE: Syrian Forces Reportedly Enter Douma Farms Area in Eastern Ghouta
Russian President Vladimir Putin stated that the strikes had been carried out in violation of norms and principles of international law and under a false pretext before Organization for the Prohibition of Chemical Weapons (OPCW) experts arrived at the site of the alleged chemical incident.