"I can't be impolite in regard to the heads of other countries, but you're citing leaders of the US, the UK and France. Speaking frankly, all proofs that they're referring to, based on media and social networks," Lavrov said.
Russia did not try to change the site of a suspected chemical attack in the Syrian city of Duma, Russian Foreign Minister Sergey Lavrov said Monday.
"I can guarantee that Russia has not tampered with the site," he told the BBC.
Lavrov's statement comes amid claims by US ambassador to the OPCW Kenneth Ward, who said that Russia may have visited the site of the attack and tampered with it.
According to the head of the Russian foreign policy, the latest attack by the US, the UK and France won't be left unanswered. 
"There would be consequences. We lose basically the last remnants of trust to our Western friends… They punish first in Duma, in Syria, and then they wait for the inspectors of the OPCW [Organisation for the Prohibition of Chemical Weapons] to visit the place to inspect. Proof by punishment is what is being applied by the troika of Western countries," Lavrov told the BBC broadcaster.
Speaking further, the Russian foreign minister noted that the current relations between Russia and the West were worse than during the Cold War period.

Earlier this month, several Syrian opposition online 
media outlets reported
, citing militants that the Syrian Army had used chlorine in the town of Douma and killed up to 70 people.
Following the reports, a number of states, including the US, accused Damascus of staging the attack, with the latter denying all the allegations.
READ MORE: US Refuses to Face Reality in Alleged Syria Chemical Attack — Kremlin
The Russian Reconciliation Center's representatives, who visited the place of the alleged attack and questioned local doctors, couldn't confirm that the doctors received individuals with symptoms of any chemical poisoning.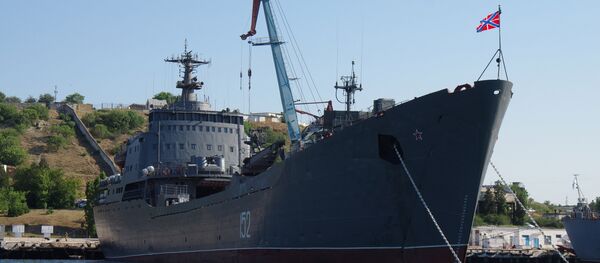 Following the allegations of the chemical attack, the US, the UK and France 
launched strikes
 on a number of targets in Syria last week.
According to the Russian Defense Ministry, the three countries fired over 100 cruise and air-to-surface missiles, most of which were shot down by Syrian air defenses.
The attack came the same day that the Organization for the Prohibition of Chemical Weapons (OPCW) mission was set to start the probe into the alleged chemical weapons attack in Douma, which the West had immediately blamed on Damascus.