In all, 57 individuals running for Democratic nomination in 44 congressional districts have intelligence and/or military backgrounds. If projections of a Democrat 'Spring' are fulfilled and their candidates sweep the board November 6, perhaps as much as 50 percent of the party's new lawmakers could be drawn from America's shadowy military-intelligence nexus.
While the potential figures involved are staggering in the first instance, it's also notable how unashamedly candidates boast of their time spent toiling in the US parapolitical underbelly on their candidacy websites. Previously, such employment history would typically be suppressed, or at least unmentioned. 
© AP Photo / Phil Coale
Former President George H. W. Bush speaks at a leadership forum, Monday, Dec. 4, 2006, in Tallahassee, Fla. Bush was invited to the forum by his son Gov. Jeb Bush.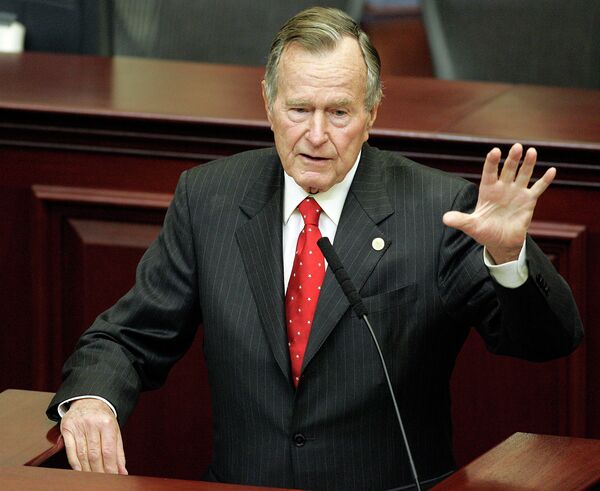 Former President George H. W. Bush speaks at a leadership forum, Monday, Dec. 4, 2006, in Tallahassee, Fla. Bush was invited to the forum by his son Gov. Jeb Bush.
For instance, while President, George H. W. Bush never publicly discussed his time spent as CIA Director, and questions still abound as to how long he worked for the Agency — and what his duties included.  
No such reservations are evident today, however, with numerous candidates directly referencing their service in campaigns and periods that would've included drone warfare, torture, targeted assassination, extraordinary rendition and other controversial activities on foreign soil.
Droning On and On
In some primary races, more than one candidate is drawn from the military-intelligence sphere. For instance, in Virginia's seventh congressional district, veteran Marine Corps pilot Dan Ward is vying with Abigail Spanberger, a CIA employee of almost ten years standing, for the Democratic nomination.
While with the Agency, she "traveled and lived abroad collecting intelligence, managing assets, and overseeing high-profile programs." This experience allegedly taught her "the value of listening."
Similarly, in New York's 19th district, Jeffrey Beals is battling Patrick Ryan. Beals is a former CIA intelligence officer, who went on to become a diplomat to Iraq during the bloody American occupation. By his own admission, he helped craft the country's controversial constitution, and was decorated by both the Army and State Department for his efforts.
While there, he may have crossed paths with Ryan, who himself served two tours in Iraq, one of which as "lead intelligence officer for an infantry battalion of 1,000 soldiers and officers responsible for ground operations in Mosul."
Shelly Chauncey
, seeking the Democratic nomination in Pennsylvania's fifth district, spent over a decade with the CIA, allegedly working her way up through the ranks from secretary to counter-intelligence officer. This role included undercover work "throughout the US" — despite it being illegal for the Agency to carry out domestic operations, or spy on US citizens.
Chauncey isn't the only nominee whose curriculum vitae hints at involvement in domestic syping activities. In California's 48th district, Omar Siddiqui — "the problem solver" — brags about his life "on the front lines of national defense." He currently advises the Federal Bureau of Investigation on national security and counter-terrorism, and is director of special projects of the FBI National Citizens Academy Alumni Association. He was also formerly an advisor and community partner with the CIA.
Many of the candidates featured here have been designated by the 
Democratic Congressional Campaign Committee
 as 'top candidates', parachuted into the running for Republican seats most susceptible to a vulnerable to an electoral sea change.
Among them is Elissa Slotkin, running for Michigan's eighth district. She's a former CIA operative with three tours in Iraq to her name, and worked as Iraq director for the National Security Council under Barack Obama, before moving to the Pentagon, where, as principal deputy assistant secretary of defense for international security affairs, her responsibilities included drone and cyber warfare, and homeland defense.
Another unashamed drone expert is 
Jesse Colvin
, running in Maryland's first district, who spent six years in Army intelligence, in countries including Afghanistan and South Korea. In the former instance, as an Army Ranger, he led intelligence teams whose work "facilitated capture/kill missions of Taliban, al-Qaeda and other terrorist leaders." He also managed a lethal drone program.
Venerating Veterans
In the 2000s, the Democrats repeatedly reaped electoral dividends from the unpopularity of the Iraq War — despite its elected representatives enthusiastically supporting the Iraq War at the time. The 2006 midterm elections, in which Democratic candidates swept the board, was presented by the party as a referendum on the conflict — and Barack Obama made much of his opposition when pursuing the Presidency two years later.
In 2018 however, many of the deep state candidates running for Democratic nominations actively and openly tout their experience in that war, among others, in support of their campaigns. Moreover, Iraq veterans are often of officer class, meaning they had executive responsibility in the conflict, or served in elite forces units such as the Army Rangers or Navy SEALs, engaging in brutal covert operations as a result.
For instance, Josh Butner, running in California's 50th district, spent 23 years as a SEAL in multiple combat deployments, including Iraq and Afghanistan — but while his campaign website depicts a proud Butner bedecked in combat gear, his activities as a Navy SEAL — perhaps predictably — are not discussed.
Nonetheless, 
if the experience of SEAL Team 6
 — the group that executed Osama bin Laden in May 2011 — is anything to go by, his duties may have included "revenge ops," unjustified killings, and other atrocities. 
Team 6 adopted a policy of "canoeing" — shooting already dead combatants in the upper forehead at close quarters, in order to create a v-shaped wound that exposed brain matter, and then taking a commemorative photo of their fallen quarry, among other mutilations. However, between 2005 — 2011, battlefield reports and accounts of such atrocities were routinely ignored by the team's leadership.
Furthermore, the SEALs were infamous for taking on members of other units who had been disciplined for similar behavior, in 2007 accepting a former Gold Squadron sniper who left his unit after killing three unarmed people — including a child — in two operations.
The website of 
Dan Helmer
, running in Virginia's tenth district, discloses little about his activities in Afghanistan and Iraq — although a clue may lie in his endorsements from retired national security officials, which includes eight generals and admirals, two former deputy CIA directors, and a former under secretary of defense for policy.
Richard Ojeda, currently West Virginia state senator, is running for congressional nomination in the state's third district. He spent more than 20 years in the US Army Airborne, including numerous tours in Iraq and Afghanistan, where he became a major. His last post was executive director of Army recruiting in Beckley, helping the US Department of Defense enlist future soldiers — and potentially legislators — like him.