New Delhi (Sputnik) — An 18-year girl in India has pressed charges against her parents for allegedly trying to arrive at a compromise with her rapists in exchange for money.  
Women's organizations working for gender parity and women's safety say the incidence of the girl reporting against her parents for being lenient towards her perpetrators is a big encouragement for other victims.
READ MORE: Indian Couple Imprisoned for Life for Trafficking Minors Into Flesh Trade
"I think this is the first case in India where the daughter is speaking against the parents and seeking punishment for the accused rather than standing with the family for a possible compromise. This sends a strong signal to those who think legal system can be managed with their money and muscle power," Asha Singh Sikarwar, women's rights activist and member of a district-level women protection committee in Gwalior, Madhya Pradesh told Sputnik.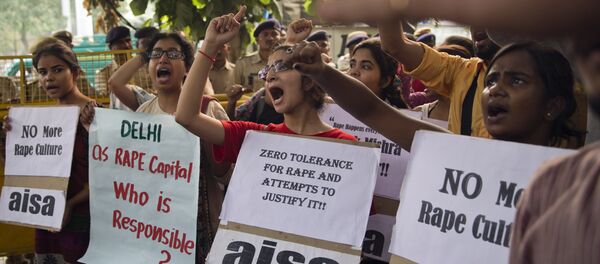 21 February 2018, 14:59 GMT
According to the Times of India, the girl was kidnapped, raped and dumped at an isolated location in 2017. She lodged a complaint with the police and got the two accused arrested. But one of them managed to contact her parents and offered them money to convince the girl into withdrawing the case.
"One of them (accused), out on interim bail, approached the girl's parents and offered them Rs 20 lakh (approximately $30,000) if they could convince their daughter to change her statement and withdraw the case. Since they come from a very humble background, they readily agreed," English daily Times of India reported.
"I completely refused taking back the case, but my parents didn't back out either. They kept trying to convince me and I stuck to my stand. The next morning they thrashed me and blackmailed me, saying that they were poor and needed that money," the girl said in her complaint to the police according to the Times of India.
The Delhi police have arrested the plaintiff's mother while the father is absconding, according to news reports.
Meanwhile, support is pouring in from across the country for the courage and tenacity of the plaintiff and victim who wants her parents to be punished for aiding the accused.
18-yr-old Delhi girl gets her parents arrested for settling rape case & withdrawing her statement for 20 lakh with 2 accused rapists out on bail

This is what happens when Police, Investigative & Law enforcement agencies don't have timebound goals. Kudos to courage of the girl!
— गीतिका (@ggiittiikkaa) April 17, 2018
Delhi rape victim's parents take a Rs 5 lakh bribe, hoping to have her change her statement. The girl reports them to the cops. What kind of parents are these? via @htTweets https://t.co/NjuwdcPVlg

— Harinder Baweja (@shammybaweja) April 17, 2018

​There is a growing awareness of rights and empowerment of girls and women >>> Delhi — Girl gets parents booked for 'settling' rape case https://t.co/IXLpG8TTKE
There are also questions being raised against the judiciary.
How can gang rape perpetrators be let off on bail to threaten victim and force parents for a settlement. What is our judiciary doing? Do we have courts in this country? Then if the girl does not agree, they will kill the girl. The judiciary needs to pull up its socks. pic.twitter.com/AWDmBVgmrn

— Kapil Chopra (@KapilChopra72) April 17, 2018
READ MORE: India's Rape Culture Strikes Again: 100 Year Old Dies in Incident
The incident has come to the forefront at a time when protests are raging across the country against recent cases of rape and murder, including that of an eight-year-old girl. The rape of the minor in the northern states of Jammu and Kashmir and from Uttar Pradesh brought together thousands of people to the heart of national capital Delhi over the weekend protesting against the allegedly offhanded approach of the administration. The more recent cases of rapes from other parts of India, including the western state of Gujarat, have added fuel to fire.