The Mehr agency stated, citing the statement of Iran's Islamic Revolutionary Guard Corps (IRGC), that clashes between border guards and terrorists occurred after an ambush on a border post in Mirjaveh. The attack was repelled, and several terrorists were killed and injured.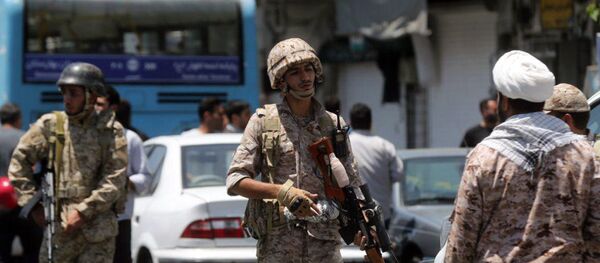 The clashes killed two border guards and two members of Basij — the IRGC's volunteer branch — and injured three others.
Representatives of the IRGC occasionally clash with militants based in Sistan and Baluchestan who allegedly have links to al-Qaeda* terrorist organization.
READ MORE: Israel Would Not Let Iran Advance Forces Toward Its Border — Analyst
Earlier, Iran's Islamic Revolutionary Guard Corps (IRGC) stated that it had repeatedly prevented attacks on the military checkpoints in the country's southeast and eliminated several terrorists.
At the end of last year, the IRGC, an official branch of Iran's Armed Forces, was annexed to the US anti-terrorism sanctions list for allegedly "providing support to a number of terrorist groups, including Hezbollah and Hamas, as well as to the Taliban*," according to the US Treasury Department. It also declared that the establishment "played a central role in Iran becoming the world's foremost state sponsor of terror."
*al-Qaeda, Taliban are terrorist groups banned in Russia